Thaipusam: A Festival of Thanks
The piercing ritual
Because Arasan is young and because he has not asked the gods for any huge favors—he is only asked to undergo one piercing—on his forehead.
The pilgrimage is made easier because there are tents set up. Numerous people are stationed there to pour saffron water on the feet of the pilgrims.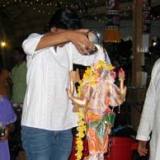 Pilgrims pour milk on the statues of the gods and goddesses as an offering.


When they reach the other temple, the milk is poured onto statues of the gods and goddesses as an offering. All the piercings and hooks are removed and the sacred ash is rubbed onto the wounds. This is supposed to stop bleeding, if any.
There are many types of piercings. Some devotees pierce their cheeks, tongues and foreheads with Vel skewers. These are long, thin metal rods with sharp ends.
Others attach 108 tiny hooks to their backs and chests with the other ends connected to a person pulling a rope.
Others also dangle small fruits (limes) onto their chest areas with hooks.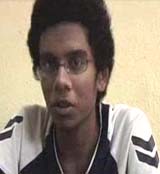 Watch and listen to Arasan and his family in this unique video footage taken in Madison, WI and Singapore.


Arasan's normal life
Arasan is a secondary 4—the equivalent of our grade 10—student, at St Gabriel's Secondary School, a high school in Singapore.
There, he studies like any other teenager in Singapore and takes his exams very seriously. He makes it a point not to let his fasting and prayers get in the way of his studying.
In his free time Arasan loves to play football and watch movies with his friends.
His favorite movie is King Kong, and his favorite cartoon is Power Rangers.
"During the weekends, I help my mother with the housework. I help her to sweep the floor and do the laundry. When I am done, I hang out with my friends to drink coffee and just gossip," says Arasan.
Enjoyment with a purpose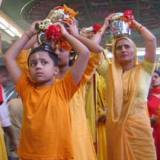 "Thaipusam is an important festival for every Hindu."
—Arasan


Arasan loves Thaipusam because, "It is enjoyment with a purpose."
"Thaipusam is an important festival for every Hindu. We fast and do these things to show our devotion and thanks, especially when our prayers are answered," he says.
Arasan is thanking the gods for helping him save his grandmother's life—she was suffering for years from cancer before her condition was stabilized.
Arasan thinks that Thaipusam is a wonderful break from school, and loves it for its colors and excitement.
A legend lies behind the origins of Thaipusam.


"I love looking at the people carrying the Kavadis, and everyone is very excited. I even like carrying the milk jugs, even though its gets tiring. I feel like I have accomplished something," says Arasan.

True or False: Franklin made a fortune in royalties from his invention, the Franklin Stove. Click Ben's head for the answer.
FALSE: Franklin never received compensation for his invention, saying that knowing houses were being heated safer was all the compensation he needed.
Tweet