Earth Day: Make a Difference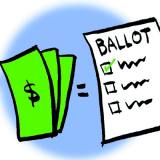 Before you spend, find out what your bucks will be supporting.
Nonprofit for a reason
Nonprofit organizations only work if people support the cause. They're called nonprofit for a reason—they don't make any money beyond what they need for expenses!
There are so many companies out there looking to help a good cause, but most of the time they have no one to help.
And a sad, but true, fact is that you can't change a lot in the world without money.
Pay what you say
We all say meaningful things that we believe. Perhaps:
I'm an animal lover.
Save the trees.
I love nature.
Whatever you think, you should support it. And one way to do that is with your money.
Even if you don't say it, you support companies everyday. By purchasing something you're supporting the ideas and values that the company puts forth.
So, think about that with donations. What do you want to support? Find a group doing something about your cause.
Find a group
Here are some programs that I found. Some I've donated to before, and others I just recently discovered. You might think of using them, or they could give you some ideas. Check them out:
But before you go headfirst into giving, consider where your money will go...
Tweet