Japan Changed Me!
Home in Japan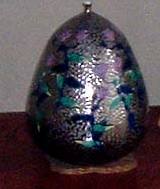 Click to see my room at Mrs. Sato's house.


My Room at Mrs. Sato's House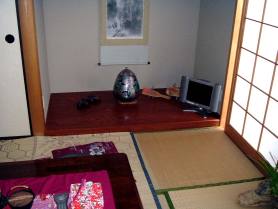 My room had a small shrine in it.

Close

My host was Mrs. Sato. I stayed there with another kid from our group and one of our chaperones. Our host-mother spoke fairly good English, but we spoke almost no Japanese, so the electronic translator got a lot of use.Electronic Translator

An electronic translator is a small device which has a screen and a keyboard.

It's capable of roughly translating words from one language to another. Some can translate spoken words as well as typed or scanned text.

Close

Mrs. Sato was one of the nicest people I have ever known, and she took very good care of us.

On school days, we went on tours to various locations. One of the coolest places that we visited was the Kenji Memorial. Kenji was an artist, astronomer, and poet from Towa, who created some of the most amazing artwork I have ever seen. Kenji Memorial

Kenji often wrote stories about his daydreams, so, after his death, a museum was built which dedicated some rooms to recreating some of Kenji's dream stories.

Close



For example, there is a room where you stand on a whole bunch of TV's with a bird's eye view of Japan, so it seems as though you're flying.

Another time our host-mother took us out one night to see a glow-in-the-dark painting of The Midnight Train, a symbol for Towa which is also based on a Kenji story.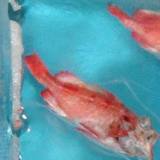 The ice aquarium.


Surprise
At the end of the week, a major change occurred. Another student felt really homesick in his current house because he was the only American there, so our chaperone decided that the homesick student and I should switch homes.
My new home couldn't have been more different from my first home. With Mrs. Sato, everything was very formal, and she was the only person there.
My new family was completely casual. There were seven other people in the house (three kids, two adults, two grandparents). It was a great way to experience different types of Japanese society, and I became really close to them.
In the final weekend we visited the ocean. It was amazing! First, we looked in tidal pools and caught a few crabs. Then, I saw one of the weirdest things. My host brother asked if I want to visit the ice aquarium.
I hesitantly said "Sure," not really knowing what this could be. It turned out the ice aquarium was exactly what it sounded like, an aquarium where the fish are frozen in ice. We had to put on special jackets, because it was so cold.

Finally, we returned home, where we celebrated my last night in Japan by launching fireworks, staying up late, and watching the Matrix movie with Japanese subtitles.
The next morning, I frantically packed my massive mounds of souvenirs. At the bullet-train station I said goodbye to all my Japanese friends.
Home in America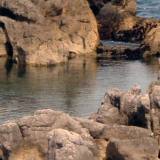 Click to see tidal pools.


After two weeks dealing with jet-lag and late nights, we were all tired. I slept for seven hours on the plane. We got home in eleven hours (the jet-stream sped us up).
We showed our families all our cool stuff, and then collapsed, once again, into sleep.
My trip to Japan was something I'll never forget. I saw so many different and fantastic things that it would be impossible to recount everything.
It was a very special trip, but in some ways, it was even more special because I knew I had earned it. Tidal Pools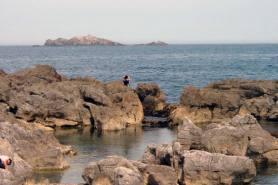 We got to explore tidal pools and grabbed a large quantity of crabs. We let them go later!

Close

I want to save up more money for exciting trips like this!

True or False: When Franklin died in 1790, because of his 'go-it-alone' attitude, few people attended the funeral of the man they called 'the slinging singleton.' Click Ben's head for the answer.
FALSE: When Franklin died in 1790, over 20,000 people attended the funeral of the great diplomat who was called 'the harmonious human multitude.'
Tweet