First Job, First Paycheck
Do the Respectable Thing
"I took my first job when I was 13 because I wanted to buy a bike," says Damien, a sophomore in college.
Damien's parents were going to buy him a used Raleigh. Working enabled him to get a lightweight Bianchi that he really wanted.
"It felt good when I walked in the store and pulled out my own money to pay for it," Damien says.
How good does it feel? It hits you in two ways:
Some jobs pay less than minimum wage.


Self respect. Turn your labor into purchasing power and watch your self-respect skyrocket.
Damien says, "If you want to increase your self respect, make some money of your own so your belongings reflect your hard work."
Freedom. It's your money. That means you have more choices about the things you can buy.
Damien's choices on a bike were limited until he started working and was able to buy exactly what he wanted.
Want More Money?
"Easy," says Damien. "Save some."
Fact. Everyone who works, whether they are 13, 22, or 56, has basic needs for clothes, food, housing, health care, entertainment, and transportation.
Fact. Most teenagers don't have to pay for all of those basic needs.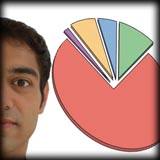 Make sure one slice of your pie is for savings.


How you spend your money determines the kind of life you live. Do you want to always wear the
latest clothing style
? There goes all your money and all your time.
Angie did that for a year. Now, a freshman in college, she looks back on that year and laughs: "School, shop. Sleep, shop. Work, shop. That's all I did!"
When Angie's friends wanted to go to Cancun for Spring break, she couldn't afford it. "I wised up real quick," and discovered name brand thrift shops.
She also started to save some of each paycheck.
Take Your Time
Angie says, "Make sure you get a paycheck or two before you start spending."
Jinda adds, "Even though it feels like it, you don't have to spend NOW." Jinda says if you want to do your very best, first learn all you can about budgeting your money, and your time.
Juan Carlos says, "If you don't plan how you're going to spend your money, your money will spend you!"

True or False: Franklin didn't want the motto 'E pluribus unum' to appear on the Great Seal of the United States of America. Click Ben's head for the answer.
FALSE: Franklin's committee suggested 'E pluribus unum,' which means 'out of many, one.' It refers to the thirteen colonies, united into one nation.
Tweet