First Job, First Paycheck
It's Not Fair!
"I only made $10 a night, plus tips, busing dirty tables at Le Chardonnay [an upscale French restaurant]," says Jinda. Since she was so young, the owners let her go home after three hours, at 9:00, even if the customers were still eating.
Jinda is now an 18-year-old high school senior. She's moved up to a better position as a member of La Chardonnay's wait staff. She brings home (net income) between $60 and $100 per four-hour shift.
Move On Up!
You can't control all the factors that help you move up. However, you can do two things to raise your pay, one for now and one for later:
For now. Keep your eyes open for opportunities to take on more responsibility.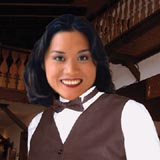 No more bussing dirty tables!


When she first started at the restaurant, all Jinda had to do was show up on time, get the dirty dishes off the table, and be polite. Jinda did more.
"I was the fastest bus person in the restaurant," she laughs. "I made friends with all the wait staff and did things to make their jobs easier."
Because of Jinda's help, tips for the wait staff went up. That meant Jinda got more too.
Then Jinda started to memorize the French menu. "They gave us one free meal a shift, so I tasted everything."
This delicious effort paid off: Jinda's bosses appreciated her enthusiasm, and started training her to wait tables.
Jinda does more than just deliver food. She blends her personality with the mood of her customers, always finding a way to get them to talk. She confidently says, "I get to know my customers, and can recommend dishes I think they'll like. I'm always right!"
For later. Make smart decisions about your education.
Staying in school increases your chance of earning more money in life.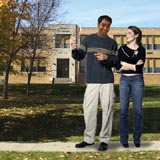 Make the most of your stay here so you can leave!


Jinda takes the same attitude to school that she takes to work. She does more than show up on time, do her job, and be polite.
Jinda does her best, looks for extra credit, takes advanced placement courses, forms relationships with her teachers, and volunteers for school events.
Now Jinda has excellent letters of recommendation for college, and money to buy the things she really wants. You can do this too.
Here's what Damien says...
Tweet