Pick Your Escape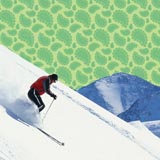 Skiing is available in many different locations.


Head for the mountains
When you ski, you get to meet other kids your age. You'll find the most teenagers at the hills with the lowest lift fees. Check out:
Killington has the biggest resort in Vermont.
Colorado offers some outstanding skiing.
The Rockies are in Idaho, too! Hills such as Sun Valley are great fun.
Don't forget about Utah and Alaska. The U.S. is full of mountains with great slopes just waiting for you!
Saving cash when it comes to skiing is important, since hitting the slopes can get a bit pricey. If you're going with a big group look for group discounts on lift prices and hotel rooms.

You don't have to travel to have fun!


Also, food at the resorts can get very expensive so, instead of hitting up a restaurant right off the slopes, pack a meal or snacks ahead of time.
If you're a big skier and own your own equipment, bring it with you. It may be a hassle, but it will save you the rental fees, which can add up.
There are many useful tips on how to save money skiing, so check them out if winter sports are your passion.
If the mountains are out of your reach, don't despair. Check our your local scene, and see if there are any slopes in your area. Spring break means you can look for plenty of your friends at nearby ski hills, too.
Backyard fun
There are plenty of fun things you and your friends can do right in your own backyard:
Visit new shops or visit artistic shops in a small community near you.
Eat at an ethnic restaurant—try a new dish chicken tikka masala.
Visit a museum in the nearest big city.
See a play or an IMAX movie.
Plan a day at an indoor water park.
Rent a boat and cruise down a local river.
Take a day trip to sightsee or shop.
Remember
Check with your chaperones from time to time and listen to their instructions. They are there for a reason and they will worry about you. It's their job!
Show them that you are responsible by keeping these safety tips in mind, and exercising common sense:
Wear sunscreen, no matter what your skin type, when skiing in the mountains. The sun is strong at high elevations, even when the temperature is bitter cold.
If someone gets injured seek medical attention immediately. When people are panicked they may not be thinking clearly, so have a plan ahead of time if something goes wrong.

Take a virtual vacation!

Carry a credit card for emergencies—not for fun, unless you have budgeted for it.
Keep a list of important phone numbers and information, including the number to call if your credit card is lost or stolen.
If you are traveling abroad, get the number of the American embassy in that country ahead of time. Test it while you are in the country to be sure you know all the country codes. If you run into trouble abroad, embassy employees are there to assist you.
Don't take unnecessary risks, like leaving your group. It's not worth the possible consequences.
The most important rule for a great vacation?
Relax and just be yourself!

True or False: There is no die for one side of the official Great Seal of the United States of America, which Franklin helped design. Click Ben's head for the answer.
TRUE: In 1885, Congress requested and purchased a die (matrix of metal or other hard substance that yields an impression on wax or other soft substance)for both sides. The front (eagle side) was created after many errors. The obverse (pyramid side) has never been created.
Tweet