Teenage Life in Blue Creek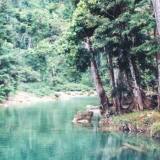 Teenagers swim in the creek when they have free time.


Time to hang out
Boys and girls in Blue Creek Village lead separate lives, helping their families and learning the work they will do when they become men and women. After school they might play sports and games, or hurry home to help with family chores.
Families must work together to meet their basic needs, and every child has a job:
Small children do the family's laundry by beating clothes on rocks in the creek, or gather eggs in the farmyard;
Some of their older sisters watch the young ones, at the same time making crafts to sell or sewing their own clothing. Others help their mothers cook tortillas, meats and stews over wood-fired stoves;
The boys work with their fathers in the fields as soon as they are old enough.
Teenagers here don't have much time to hang out like young people in America. Even if they did, Blue Creek doesn't have any restaurants or snack shops, and certainly no bars. Very few of the teenagers show much interest in music or fashion. You'll hear no buzz about celebrities and pop stars in Blue Creek Village!
When they do have a little free time, teenagers:
Walk around the village, talking and flirting;
Swim in the creek;
Ride bicycles.
Learn the Mayan way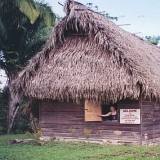 Anyone can stay in a Mayan guesthouse!


Here where the mountains begin, guesthouse visitors enjoy hiking to caves and waterfalls, visiting Mayan ruins, and watching exotic wildlife. Visitors use local guides to explore the surroundings and learn about the rainforest.
Anyone can stay at a Mayan village guesthouse. Families in about a dozen villages have formed guesthouse organizations like Blue Creek's, and welcome the guesthouse visitors into their homes to share meals and sample their local customs.
The people of Blue Creek Village like the arrangement! Families like the Chiacs enjoy sharing their way of life and their beautiful natural setting with visitors.
But they are slow to adopt outsiders' customs—money is almost useless in Blue Creek.
What to do? Who to help and how?


Hurricane Iris blasts Blue Creek
Hurricane Iris hit the coast of southern Belize on October 8, 2001. The huge storm came ashore at Punta Gorda and whirled straight up the river valley to strike Blue Creek Village with terrible force.
The villagers were warned in time, and took shelter in the few cement buildings in the community's center. No one was killed even though ninety percent of the village's buildings were destroyed.
The next day, nothing looked the same. Salome and Petrona will never forget the day their village was turned inside out by the storm.
A place like home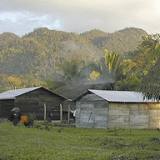 Petrona will continue to live in the Chiac family compound.


Petrona has set her life's course: She plans to stay in Blue Creek Village, living like her mother and her mother's mother before that. They are following the eternal daily patterns of clothing, feeding, and caring for growing families. No one can predict how Salome's future will unfold.
Improved roads and power lines are already bringing new tools, toys, and ideas into the village. The first Internet connection has arrived at the school. We can only speculate what will be the next big change in Salome and Petrona's world, and what will be lost or gained when it comes.
If Blue Creek Village decides to block ideas and images from the outside world, it still might change. However, instead of changing as a vibrant living culture, they might change to a static obsolete one.
Whatever happens next, when you talk to the Chiac sisters one thing seems sure: Blue Creek Village will always feel like home.

True or False: There is no die for one side of the official Great Seal of the United States of America, which Franklin helped design. Click Ben's head for the answer.
TRUE: In 1885, Congress requested and purchased a die (matrix of metal or other hard substance that yields an impression on wax or other soft substance)for both sides. The front (eagle side) was created after many errors. The obverse (pyramid side) has never been created.
Tweet