Shopping the Brands
Be savvy about your cash and clothes.


Gotta have brands?
If you think you have to wear brand-name clothes, here are some ways to spare yourself some of the cost of your fashionable purchases.

Take advantage of in-store sales. Stores like Buckle have different sales going on during all seasons to bring in more customers.
Buy clothes at the end of the season.
That's when they're on clearance. Save them for next year. This is good for clothes that will never go out of fashion, like tank tops for girls and good T-shirts for guys.
For example, I bought a plain tank top at American Eagle at the very end of the summer season for $10 instead of $20.
Shop at off-price apparel retailers. Off-price retailers (as they call themselves) such as TJ Maxx and Marshall's sell some brand names like Express at discounted prices because they buy from overstocked manufacturers or full-price retailers. Alternatively, they buy slightly out of season merchandise directly from the manufacturer.
Go to resale stores that specialize in brand names. Plato's Closet is an example in my city. Make sure you're OK with the fact that the clothes have been worn before. Merchandise at stores like Plato's Closet is only gently worn. This is where you can shop for brand names at the lowest possible price.
Go online. Not only can you save money on your clothes, you can find a lot more options. I'm shorter, so I need to buy pants that fit my leg length, and a lot of time I can find more selection online. Many Web sites also let you compare two products at once.
Brands aren't top priority?
If you don't care about having the brand names, good for you! You have the concept of frugality down. Here are some tips for you, and for shoppers who wish they could spend less:
Off-price apparel retailers sell at low prices for generic brands. You can never go wrong by shopping at places like TJ Maxx!
If you want to create your own look, a resale store like Goodwill could be your new best friend. Be prepared to shop for a good amount of time because resale stores don't always separate the items the way you might expect.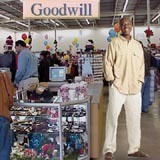 Most resale stores place designer brand clothing in a special section by itself


At resale stores, some of the merchandise could be from the '80s and earlier. Some of it will be designer brand. I guess some people don't know what's cool!
Resale stores usually place designer-brand clothing in its own special section. The prices will be a little higher, but if you can spend $10 on a pair of jeans instead of $60 to $70, you can use that extra cash for a few meals and movies with your friends.
Shop smart
Anytime you're shopping for brand-name clothes make sure you know why you're willing to pay the price on the tag. Remember:
It's possible to shop around and have the newest trends without spending a lot of money.
The reason brand-name clothing companies are ahead of the industry is because they predict the most fashionable trends.
There are a lot of options when it comes to clothes. The department stores are not the only place to go and you don't have to buy seasonal clothes right away.
What kind of shopper are you?


Don't restrict yourself to what magazines and TV shows are telling you is hot to wear. Go ahead and create your own style, feel comfortable in the clothes you wear, and make a statement about yourself.
Fashion and clothing are a
form of expression
: Use it to show off your personality.
Eyleen's Trendy
At the time of this writing, Eyleen is a senior at James Madison Memorial High School, in Madison, Wisconsin. She enjoys running cross-country, playing indoor soccer, Ultimate Frisbee, and making pottery (and going shopping, of course!).
Eyleen's always trying to be trendy without spending too much money. She can never pass up a good bargain, though!
Close

True or False: Franklin was one of three people who wrote the description for a seal of the United States of America. Click Ben's head for the answer.
TRUE: On July 4, 1776, the Continental Congress appointed a committee consisting of Benjamin Franklin, John Adams, and Thomas Jefferson 'to bring in a device for a seal of the United States of America.'
Tweet