Skateboarding for Life
Skateboarding and Graphic Arts
The graphic arts and skateboarding are both forms of self-expression. Skateboard artists favor a graffiti-derived style, also known as tagging, that surges with energy.
Jim Phillips is among the leading proponents of skateboard deck art.
"Disposable: A History of Skateboard Art," by Sean Cliver, has more than 1,000 graphic images of skateboard art from the past 30 years.
Search for New Spots
"When we began there was no place you could skate. We'd get kicked out of every place we went," says Adam. "We called ourselves 'land pirates' because we were always in search for new spots."
While it can be frustrating finding places to skate, Adam urges skateboarders to stick to the approved parks and to wear safety equipment.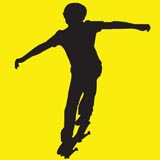 Check out this skateboard glossary.
Safety Equipment
26,000 people are treated in hospital emergency rooms for skateboard injuries every year!
Which of these is not a step on the path to becoming a pro?
Skate early and often.
Wear safety equipment.
Be seen at every competition.
Skate with a brightly colored board.
Most of those injured are younger than 16. In most of those cases the rider was not wearing a helmet. Here are some
skateboarding
safety tips from the American Academy of Orthopedic Surgeons.
The Evolution of Skateboarding
"Not too long ago jumping up in the air and bringing the board with you was thought to be impossible," says Adam.
Skaters just skated ramps and did balancing tricks like spinning on two wheels on flat ground, like the ollie.
But the ollie's changed. Or, as Adam puts it, "As the art form evolved the tricks got gnarlier and gnarlier."

True or False: The first ever assassination attempt made against a United States President was intended for Andrew Jackson. Click Andrew's head for the answer.
TRUE: Richard Lawrence was mentally ill. He tried to shoot Jackson with two pistols from point-blank range. Both misfired. Jackson then beat Lawrence with his cane.
Tweet