What's A Cliffhanger?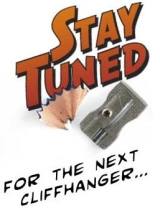 It's season finale time and your favorite TV show just ended with the title character's life in jeopardy.
Will she live or die?
In a few short months, you'll find out....
This type of ending is known as a cliffhanger.
Some believe that the idea of a cliffhanger can be traced all the way back to the beginning of storytelling.
One of the earliest cliffhangers occurred in the serial novel, "A Pair of Blue Eyes" by Thomas Hardy in 1873.
One new pair of blue eyes every month

The story was published in the newspaper with one chapter appearing each month. Hardy ended one of the months with his main character hanging off a cliff facing his rocky death.
The actual word "cliffhanger" doesn't appear in print until around 1937 when many popular authors and silent films were using cliffhangers to keep interest in their novels and films.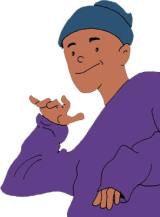 Check out Kid Kred from the beginning.
Writers of books, television, movies and comic books continue to use cliffhangers. For example:
Most television series end their season with a cliffhanger not to be resolved until the coming fall. Example: "Lost."
Movies such as "Pirates of the Caribbean" and "Lord of the Rings" used cliffhangers to lead into the next movie.
Cliffhangers continue to be an important part of entertainment and literature to this day because of their ability to grab attention and keep interest.
In AJ's "Kid Kred" comic serial, the editors used cliffhangers every seven weeks to get your vote for the direction of the series. At every cliffhanger, AJ's artists and writers had three weeks to develop the comic strips for the next four weeks, thus determining the course for the entire series.

True or False: Andrew Jackson was referred to as a 'Jackass' during his 1828 election campaign. Click Andrew's head for the answer.
TRUE: In fact Jackson was quite fond of the nickname and used it as his symbol for awhile. It later became the symbol of the Democratic Party.
Tweet