April Fools!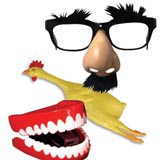 A day of this?

Many of us enjoy a good practical joke, especially on the first day of April. That day, dedicated to pulling pranks on others, is known as April Fools' Day across the globe. But why do we have an entire day for jokes and pranks, and how did it get started?
Murky origins
Figuring out when the first April Fools' day was celebrated is a little bit of a challenge. There doesn't seem to be a record of the first day of pranks.
However, many people believe that April Fools' began in France around 1582. That year, the French government changed the official calendar from the Julian calendar to the current Gregorian calendar (named after Pope Gregory XIII, who lived from 1502 to 1585).
Before the switch, under the Julian calendar, people celebrated the New Year with a week of festivities from March 25 to April 1.
Five hundred years ago, transportation and communication were much less efficient. News of the new calendar took years to reach certain areas.
Many people refused to accept the new calendar. When the people in these areas went to celebrate the New Year on April 1, others considered them to be "fools."
The people who adopted the new calendar began to play tricks on the fools who celebrated the New Year in April. They sent them on fool's errands, sent invitations to fake parties, and tricked them into believing things that were untrue.
It took a couple hundred years for news to travel to the rest of the world...
Tweet