Need Clothes? Revive Old T-Shirts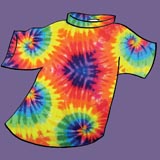 What's the best way to tie-dye?
3. Tie-dye it
Your shirt doesn't have to hit the trashcan just because it has a few spots. You will love to wear it after you've applied some tie-dying skills to it.
If the stain is dark, use darker rather than lighter colors, so the stain is not as obvious.
Unfold your beautiful T-shirt, and then hang it up to dry.
Find detailed directions and ideas for designs in this video.
4. Make doll clothes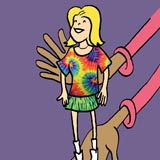 Keep your siblings' dolls in style.
Do you have a younger sibling who still plays with dolls or has a stuffed animal that would love some new clothes?
Doll clothes would make a great gift for him or her, as well as for other family members.
One way to do this is to make doll clothes from old baby T-shirts.
Check out this this terrific tutorial. A sewing machine would make the project go faster, but you can always hand-stitch the clothes together.
Another great way to reuse the design of a T-shirt for your room is to cover a pillow...
Tweet