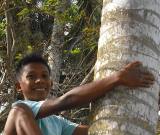 The dream job!


Romi Saryadi has a job many kids really want: tree climbing!
Romi works at a coconut farm in Tanjong Pinang. It's the capital of Bintan, which is in Indonesia.
He lives in village on the island of Bintan, where about 500 coconut trees grow.
The coconuts have turned from green to brown, which means it's
harvest time
.
Just to make sure, Romi and his friend shake one tree to see if it is ready.
Harvesting coconuts is not an easy thing to do, but the grooves on the tree trunk make it easier to climb.
It takes a couple of minutes to climb the tree, and once Romi is up there he starts twisting off coconuts. Three coconuts drop with loud thuds onto the ground.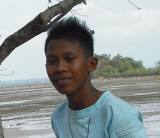 Romi's work place


Hard Work
Romi and his friend pick up the coconuts, put them into wheelbarrows, wheel them back to the farm, and then wait for them to dry so they can husk them.
Right now, Romi gets paid 125,000 rupiah, or $11.80, a week to work on the farm.
It takes Romi one day to husk 250 coconuts. That means it will take him a whole month to husk all the coconuts.