Friends are important for many reasons. Together you can ride bikes, play house, play sports, and do any sort of activity.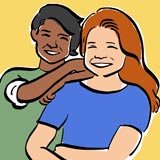 The glory of friendship


Friends can tell you many things about yourself that you may not see or don't think are very important. A friend may notice that:
You have a real skill working with numbers.
You're great at explaining things to others.
You always order a chocolate shake to celebrate something.
When your friends tell you these things, it helps you understand what makes you unique—one of a kind.
Making new friends is always a rewarding experience. Friendships help define our lives.
How do you make more friends?
Here are some ideas about how to make more friends:
Get to know your classmates. Talk to them during breaks and find out new things about them.
Join a club that interests you. You'll meet new people who have the same interests as you.
Participate in sports. Most athletes play or practice as a team, so meeting new people will be easy.
Volunteer in your community. You'll meet other people who care about giving back, and you'll have a rewarding experience helping others.
Get involved in your church youth group. You may meet others that go to different schools, yet you'll share things in common based on your religion.
Every fall there are kids you don't know in your classes at school...