Make the Most of Your Internship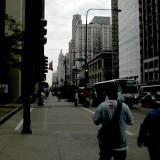 My own internship allowed me to see a lot of downtown Chicago.


Interns Speak Out
"I learned much more about what goes on in the design world," says
Rachel
, about her graphic design internship.
Her internship gave her an overview of the entire field, "from how clients are handled and the making of proposals to the actual design work and programs used."
Rachel says, "It's good to know what you want to do, but I think it is even more important to know and understand all of your options."
"You always feel that there is something you didn't learn and you could have, says Mark, an intern in advertising.
And then, "there are times when you sit and think about what you've done and say, 'Hey I actually know how the advertising business works,'" he adds.
Amanda says her position at a law firm was "very fluid. It allowed me to focus on areas that interested me."
"Early on," Amanda remembers, "I had to bug people to give me things to do. But after the first few weeks, people started bringing me tasks, and from there I got somewhat permanent assignments."
Amanda had a wide range of responsibilities—a lot of clerical research and organization, legal research, and graphic design/marketing.
"The best part of the job was that I never knew what I was going to have the opportunity to do from one day to the next!" she says.
What Happens Next?
Mark and Amanda share their thoughts at the end of their internships.


One of the greatest benefits of an internship and one that might not be so obvious is networking. You'll meet many people during the course of your internship and, as they get to know you, they can become valuable contacts in the future.
The more people you get to know, the more people there are in your field who might be able to help you find a job or give you a good reference. Networking and making work contacts is often listed as the No. 1 tool in finding a job so updating your rolodex is a good idea!
In some fields, like finance or law, an internship often can lead directly to a job with that company.
Even if you don't love your internship or the people you work with, it's important to leave on a good note and never burn bridges.
If you take initiative, explore your interests, and learn and observe as much as you can, you're bound to have a great internship!

True or False: Benjamin Franklin was the first scientist to realize the importance of fresh air in curing disease and helping general health. Click Ben's head for the answer.
TRUE: Franklin realized this and had hospitals lower windows to increase ventilation in hospital rooms.
Tweet