Those Old Blue Jeans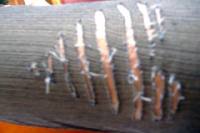 Use a butter knife to make the holes bigger.
Ready to decorate cool jeans?
Get an old pair of jeans that you can easily see becoming fashionable. Use your imagination! Ripped up jeans are the thing, so since yours are already in pretty rough shape, it shouldn't be too hard to make them cool.
Check with your parents to make sure it's okay to change them up. Then get some scissors, a butter knife to make the holes bigger without tearing them too much, and some glue to keep the raw edges from fraying.
Where so you want your holes to go? "One right above the knee, and another on the knee of the other side," I told my parents, "and maybe make the one that's already there a little bigger."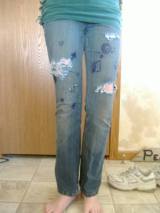 These meet parental approval.
Use a pencil to draw where you want the holes to go. Then use the scissors to make a very small hole right in the center of your drawn circle, big enough for the butter knife.
Use the knife to move the fibers around enough to change the color, and make the little hole you cut into the size hole you want. Do this with all of your holes.
Do you have one hole that doesn't cooperate? Use the scissors and cut threads only going up and down, then continue to use the butter knife to widen the hole.
Once each hole has reached the outline you drew, put some non-washable (cloth) glue around the outside of each hole to keep it from getting any bigger. Let the glue dry and then run your jeans through the wash to get rid of the pencil lines.
Done! They look great!
Tweet