Be the One Who Gets It Done
Look around your community. Do you see things you'd like to change? Do you feel sad because you see...
A homeless man with a threadbare coat?
A crying child at an auto accident?
A river or stream with trash along the banks?
An old woman sitting alone outside a retirement home?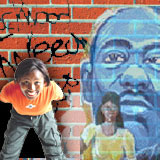 Develop plans to paint a mural!
Well, don't feel sad, because you can do something to help. No matter what age you are, you can improve your community, help others, or care for the environment. You can be a leader.
Kids who make a difference
Young people can make a difference. Here are a few examples:
Sagen Woolery is a 12-year-old who runs Kids' Kitchen, a summertime soup kitchen at a local church.
Lauren Schwartz was 14 years old when she decided to earn money to buy school supplies and clothing for first-graders from low-income families.
Melissa Poe
was only 9 years old when she started Kids For A Clean Environment (Kids FACE), an international children's environmental group.
Get it done--organize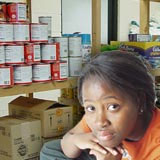 Kids can start their own organizations and projects.
Let's say you've found something that needs to be done in your community. How do you make it better? Start with your idea and figure out exactly what you want to see happen. For example, do you see a building wall covered in graffiti? What would you like to see there?
Find out who else is interested in this problem or has responsibility. Ask your friends, parents, teachers, religious leaders, and librarians.
Is there another group that's already trying to help solve a problem you found? See if you can help them. No one else is doing it? Organize a group!
Get it done--develop your plans
Keep safety in mind.
After you and your group have figured out your goal, develop plans to reach it.
Ask your parents or other adults for some ideas. They can help you think through the steps to get to your goal.
You'll probably need supplies, and money.
Click here
to read how Brittany raised $5,400 for her project!
Some projects don't cost anything. For example, if you know that an elderly neighbor has a hard time keeping up with yard work, you can simply volunteer to help.
Some organizations will give "good-deed" grants, gifts of money to support worthy projects. You have to apply to get a grant, so finding a helper who knows how to do this is recommended.
Have fun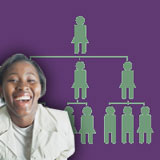 Learn how to volunteer.
One of the best ways to get others involved in your project is to build in fun.
Helping others makes you feel good but you can also find ways to make the project or event enjoyable in other ways.
When a project is fun, your volunteers will be eager to work!
Fun also unleashes creativity, which may spawn more ideas than the ones you first thought of, and even some ideas for other projects.
When ideas run dry
Want to help but aren't sure what to do? Your community has organizations, such as scouts, churches and United Way. They have many projects. Contact them, or check out
this site
for some great volunteer ideas.
Organize a dog walk.
Lots of kids are working all year round at helping others, caring for the environment, and making their communities better places to live.
Be the one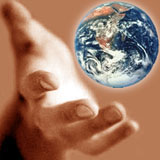 You can change the world.
You can organize a movement to reach a lofty goal or you can simply look out for ways to help everyday.
When you see an older person struggling with a heavy door, give a hand.
If you see someone drop some packages, stop and help pick them up.
Millions of small acts of kindness can have as great an impact as big projects. If each of us takes a few minutes every day to help others, we can build up mountains of selfless giving.
That's how you change the world!

True or False: Andrew Jackson was a strict vegetarian. Click Andrew's head for the answer.
FALSE: Jackson loved to eat meat. His favorite foods were wild turkey, partridge, venison, cheese, blackberries, and milk.
Tweet