Find the Best Car
Ask an auto mechanic
Auto mechanics are nice people, but you don't want a car that will make your mechanic your best friend. Googolplex asked Brian Mullane, a certified, independent auto mechanic, and owner of Spring Harbor Auto Clinic in Madison, Wisc, about car repairs. He said:
Honda and Toyota seem to have the lowest incidence of repair. Subaru, Nissan, and Mazda are also very good;
Stay away from Hyundai, Kia, and Daewoo. There is a reason why they are inexpensive;
Ford seems to have tie-rod and steering problems;
Chrysler has some nagging problems with air conditioning units in models '96 and newer. Since the dashboard needs to be removed to get at the unit, the repair bills can reach $700-$800--mostly labor;
Toyota, Ford, and GM make very good trucks.
Find unbiased car rankings.

We asked him what he'd buy his daughter if she were going off to college. He says, "I'd recommend a Toyota or Honda. With proper and regular maintenance, they're dependable, low-maintenance vehicles for the first 100,000 miles."
Mullane adds, "If she wants to buy a pick-up truck, I'd recommend a Ford."
Ask the government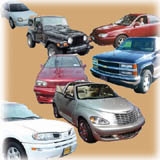 Why is fuel efficiency important?

Which is the best car for you in terms of fuel costs? Turn to your Environmental Protection Agency (EPA), the agency that rates vehicles for fuel efficiency.
In 2007 the EPA proclaimed the Toyota Prius as the overall most efficient car of the year. This hybrid gets 48 miles per gallon in the city and 45 on the highway.
The Honda Civic Hybrid is the most efficient compact car from 2007. Burning 45 miles per gallon in city traffic, this subcompact averages 40 miles per gallon on the highway.
Most sport utility vehicles are at the other end of the spectrum, according to the EPA. The Mercedes Benz G5 is the worst with 11 miles per gallon in the city and 13 on the highway.
Ask your friends
Your wheels have got to be cool, by your standards and with your friends. So what are other teenagers saying about auto brands? According to an article done by Forbes, here are the top ten brands that win over teenagers. How high are these brands on your wish list?:
Ford Mustang
Honda Civic
Honda Accord
Volkswagon New Beetle
Toyota Corolla
Toyota Camry
Toyota Prius
Ford Focus
Ford F-150
Nissan Altima
What do you want?
Take some time to figure out what car you really want. Here is a list of places you can check for car listings that fit your preferences:
Classified ads - Your city's daily newspaper and your community weekly newspaper and "shoppers." Read between the lines: "dependable" or "good runner" usually means it isn't pretty.
On the web - Web sites like AutoTrader and Autoweb offer online versions of the classified ads.
Used car dealers - If you have your heart set on a certain make and model, look in the used car lot of that auto manufacturer. Also look in independent used-car lots.
Bulletin boards - Check your high school bulletin board and ask your parents to check the bulletin boards where they work. Other bulletin board options: grocery stores, convenience stores, auto repair shops, and your church.
Cable television - Check your local listings to see if one of your cable stations runs used vehicle ads at certain programming times.
You've found one!

Check your car's safety ratings as determined by the National Highway Traffic Safety Administration.

When you finally find a car you want, check on its condition. Take the car for a test drive.
Use the Smart Shoppers Used Car Checklist to inspect it.
Carfax will tell you if the vehicle has ever been totaled, damaged from a flood, or had the odometer rolled back.
If you are serious about the car, and it isn't a certified used car (has passed a thorough inspection and is backed by a manufacturer's warranty), ask a mechanic you trust to inspect it.
It will probably cost you $50 to $100. If you think this may be the car you will buy, it's worth it.
If your dream car has passed all the tests so far, it's time to strike a deal! Part 2 in this series, Used Car: Get the Best Price, will help you get the most for your money.

True or False: Benjamin Franklin proposed the idea of Daylight Savings Time to give hard-working Americans more time to have fun during summer months. Click Ben's head for the answer.
FALSE: He invented Daylight Saving Time to provide better opportunities to people to do productive work during the summer months.
Read the other stories in this series!
Tweet