The History of Knitting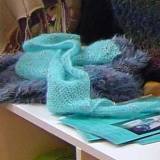 A detailed history of knitting.


Knitting is older than written history. Knitting was first used to make fishing nets, mats and baskets.
Knitted socks have been found in ancient tombs in Egypt and carved bones have been found that look like they could have been used for knitting.
In 1589 the knitting machine was invented. But many people still enjoy knitting by hand.
In the early 1900s, knitting was only for women, but soon men started knitting too.
How Yarn is Made
Have you ever wondered what yarn is made of? It's made of lots of different materials. It's made from silk, cotton wool, animal fibers and many more things.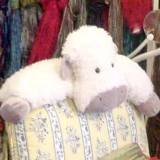 You can do so much more with yarn besides knit!


Here's how we get yarn from sheep:
Step One: Cut the wool from the sheep using a pair of electric scissors called shears.

Step Two: Sort the wool into different piles according to how fine it is. Then label these piles by how fine or coarse the wool is.

Step Three: Wash and remove dirt from the soon-to-be yarn.

Step Four: Comb the yarn with wooden paddles to straighten it. This is called carding.
How Yarn is Spun

Are you still wondering how yarn is made into one long piece?
That's where spinning comes in. The yarn is pulled, twisted, overlapped, and put on a spinning wheel. Then it is spun into one long piece of yarn.
Last but not least, the yarn gets its color.


Look at all the color!


How Yarn Gets its Color
Some dyes are natural (usually made from plants). Others are made from chemicals.
Both give yarn bright, vibrant colors. The yarn is soaked in the dye until the color sticks.
Next the yarn is made into a ball, called a "skein," and ready for knitting.
Knitting is a great hobby. It looks complicated but it's really easy to learn. Pick up a pair of needles and start knitting today!

True or False: The White House is the building that is displayed on the back of the $5 bill, the one with Abraham Lincoln's likeness on the front.
Click Abe's head for the answer.
The Lincoln Memorial--also in Washington DC--is on the back of the $5 bill. The White House is on the back of the $20 bill, with Andrew Jackson gracing the front.