A Question of Identity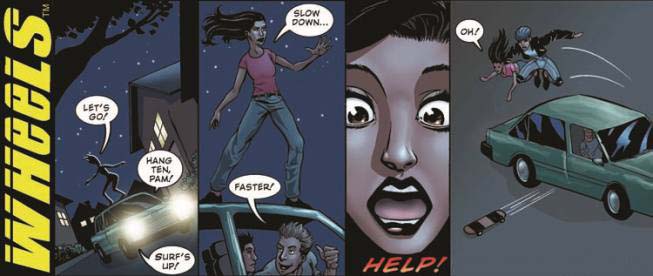 "This comic showed me how easy someone you know could steal your identity. What shocks me was this was just a boy that every old person knew and he stole their credit cards. "
Abby, 16, Hinckley, Mn
03/11/14
"This comic really highlights how easy identity theft is, and how come it is. You can have your identity stolen just by trusting someone too much. It highlights that people need to take serious steps in securing their identity from theft."
Shaun78, 16, New York, NY
03/10/14
"i enjoyed reading this because people really do steal peoples identities and you now see how easy and accessible it can be for these criminals to do so, because they just pick on helpless senior citizens."
whitney339, 16, washington, dc
03/08/14
"I learned from this how easy an identity can be stolen by trusting your friends too much. I learned to trust only your parents and possibly family relatives and if you are going to give the bank personal information online, it would be more safe and secure in person and actually going to the bank. You never know who or what is out there and how much they can take advantage of your money."
Colbster101, 13, Los Alamitos, CA
03/07/14
"I really enjoyed reading this! Even though it was just a story it's very realistic. This could happen to anyone. It's actually a very scary thing. It just shows you how careful you need to be."
Lena36, 15, Ashtabula, OH
03/01/14
"Wow! I never thought about how easy it would be to get my identity stolen. I guess that later in life I am going to need to take lots of precautions to protect my identity. This also shows me that anyone can steal my identity even people that I assume to be honest people."
Jack11, 13, Sea Cliff, NY
02/25/14
"Marcy's kinda hard on her mom but I think she does a good job of showing how much she cares. "
Kimari95, 17, Denver, CO
05/28/13
"Wow that was a shocker, I did not think her mom would showup. i wounder what is going to happen next! this is going to be good "
red5484, 14, tulsa, ok
04/07/13
"It takes a while to understand, but the message that one takes away from it is actually quite good."
rkeith34, 16, Cary, IL
03/21/13
"They are kind of confusing at first. But once you start reading through it they start making sense. Other than that they are pretty good."
amanda, 14, Wichita, KS
03/21/13
"These comics start off a bit confusing but once you grasp the concept they display worthy lessons and guidelines on the "do's" and "don'ts" involving money. Plus, the artwork grabs your attention for sure!"
Devon, 17, Fox Lake, IL
03/07/13
"I am unable to view the comic after page 9, but it was good and caught my interest."
glemmon, 15, Landover, MD
03/04/13
"i think its important to leave important information out because with that information bad people can do bad things with it."
Cliffy, 14, RICHLAND HILLS, TX
03/03/13
"This was very interesting, although I'm not exactly sure I understood it correctly. I enjoyed it though. Were these drawn? Good artwork and creativity!"
dennie, 15, Lemont, IL
03/01/13
"Everything made sense until the last picture. That's where got confused, but I still enjoyed it."
NarwhalNick, 13, Sutter, CA
02/09/13
"This taught a valuable lesson, and showed a common mistake of most people with their money. The comic was very easy way to learn about this too, because someday I will have to make a decision like this."
TheAlex50, 14, Vienna, WV
03/22/12
"Car salesmen can be fast talkers. When making a large purchase you should always do your reseach. If a sales person says you do not have time to get a mechanic to look at a car, it is time to move to another car dealership. Unfortunately, there are people out there who would love to take your money!"
Jenni, 14, Norfolk, VA
03/20/12
"I like what the accountant said about being careful about what you are going to buy before you actually get it. especially if its something big like a car."
Cecily Jane, 13, Austin, Tx
02/20/12
"I like these comics. My younger sisters and brother was reading the comics as well, they like them too. -Nakkita"
NB, 16, Gulfport, MS
02/18/12
"I like the dad, he kind of reminds me of my own. Good comic for teens to read and could possibly relate to some."
TheBoss37, 16, Sonoita, AZ
02/12/12
"This is a really good comic strip for teens who have parents who drink. It shows that drinking is NOT good, and it can cause a lot of problems."
bendres97, 14, Plainfield, Il
01/23/12
""Really great comic strip! Very enjoyable!" Dannielle95, 16, Dayton, VA 01/20/12"
Dannielle95, 16, Dayton, VA
01/20/12
"This comic shows that you should help those in need, you never know who they might be!"
AliciaStormy, 14, Georgetown, TX
12/15/11
"My mom tells me all the time to never leave important information like that out and now i really understand why."
briCav_, 17, florissant, mo
06/15/11