Fast Food: Is Bigger Better?
Fast food is often fat food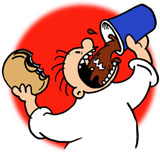 You choose.
Choose to eat too much and (unless you get some heavy exercise to burn up those calories) you will carry that choice around on your body like a backpack.
Fat sneaks up on you little by little if you're not on guard. Each one of us has to think about what and how much to eat every day.
You are growing and building your body out of the foods you eat. You need to take in foods that deliver nutrients. The foods available at fast food restaurants are too often the wrong food.
French fries and soda have lots of sugar and fat but very little healthy nutrition in them. Fruits, vegetables or milk are better choices. Note: Hot apple pie does not count as a fruit!
Is bigger better? No!
It's possible to be overweight and happy, but most heavy people aren't happy about it. Why should you let fast food marketers make you unhappy just for their profit? Are you really getting your money's worth by spending and eating more?
Food is not used in the same way as other things you buy like CDs or clothes. As consumers, everyone needs to recognize the value marketing practices for what they are: penny-wise but pound-foolish.
Look out for yourself by choosing reasonable portions at reasonable prices. Let the restaurants where you spend your money regularly know how you feel next time they offer you a "super-size" or a "value" bundle. Sometimes bigger isn't better.
Follow your own energy policy
Name one value-marketing technique that fast-food restaurants use to increase profits.
unbundling
bungee jumping
bundling
trundling
You can enjoy your food and good health, too If you control your eating as you control your spending. Fat is technically like a savings account. It's stored for future use, protection against a rainy day.
We're too food-wealthy! We save up calories stored as fat that we never spend as energy. Intake should equal output.
If you consume and spend food, money and energy (and who doesn't?) you're likely to do some of it in fast food restaurants. Take control with your own personal energy policy. Here are some suggestions: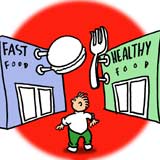 Create your own energy policy.
Keep your balance. If you're splurging at one meal today, make your other meals small and sensible.
Budget calories like money. When you eat fattening foods, be sure to spend extra calories in exercise.
Learn what makes a healthy portion size. Find out the calories and recommended portions for your favorite foods. Compare the nutrition of fast food menu items; Check this web site for the information you'll need.
Be independent. Pack your own lunch or snacks, and carry a water bottle.
For more information...
Visit these links if you are interested in learning more about the issues surrounding fast food marketing.

True or False: Andrew Jackson was a strict vegetarian. Click Andrew's head for the answer.
FALSE: Jackson loved to eat meat. His favorite foods were wild turkey, partridge, venison, cheese, blackberries, and milk.
Tweet