Math--Love it or Not!
Fashion buyer: math in style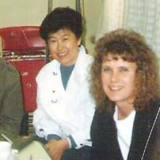 Sue (right) with her friend at a 'working lunch' in China.
Sue Decker, a fashion buyer for more than 20 years, has been to markets in New York, Hong Kong, Vietnam, Tokyo and all over.
For example, in New York Sue buys for Macy's, Lord and Taylor, and Saks, and all the different chains that are in the malls. Typical brand names are A Buyer, Liz Claiborne, and Rampage.
"I buy to a plan, and buy to the dozen," she says. That means she orders six or twelve pieces of the same dress or blouse, times 500 stores. She explains:
"When I buy six pieces of one style, I have to buy five sizes, and usually two pieces of the most popular size."


Math — it's everywhere!
If a store plans to keep an item in stock all season, she orders more, in increments of twelve. Sue says that usually in the fashion industry you would not keep a dress in stock for the whole season, because "you need to turn your inventory at least four to six times a year."
What kinds of items would a store keep in stock all year? You guessed it! Sue says "that would be your basic style of blue jeans."
Minister: math's in church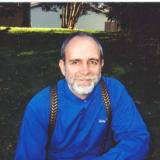 Rev. Schneider uses math to translate cubits to inches.
Reverend Ted Schneider, a minister in Cleveland, Ohio says, "The Bible uses ancient measuring systems to describe the Ark of the Covenant and Solomon's Temple."
Great Biblical artists were mathematicians too!
How do you convert the ancient measurements to the English or metric system? Ministers use math.
"They also use it to prepare budgets, review expenses, project attendance, compute the percent of increase in staff wages, and order supplies," says Schneider. He uses math in sermons too.
Reverend Schneider tries to find a language that is as common to our culture today as the language of agriculture was to the culture of Biblical times. The language of science (including math) often works well.
Give it a try


Click here for a hint.
Answer.
Now your brain cells are fired up, try this teaser:
The numbers 1-9 in the box to the left are in a particular order.
In what order are they?

True or False: Andrew Jackson was referred to as a 'Jackass' during his 1828 election campaign. Click Andrew's head for the answer.
TRUE: In fact Jackson was quite fond of the nickname and used it as his symbol for awhile. It later became the symbol of the Democratic Party.
Tweet