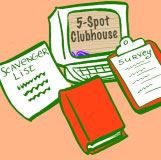 What dream jobs did your parents wish for?


February: Take a survey
Ask a group of friends "What's your dream for making money when you're on your own?"
Then ask a group of parents "When you were my age, what kind of job did you dream of having?"
Tally the results. How different are the answers between the two groups?
March: Save it all
Save your money in your credit union savings account.


Save every single coin you earn, find, or receive for an entire month. Invest it in your credit union savings account at the end of the month.
How much did you save? Use the Periodic Investment Calculator to determine how much money you'd have if you saved and invested that way for 10, 20, and 30 years.
April: Live without TV
Ask your credit union about the Saving's Challenge!


Go without any television for a full week. Can you go longer?
This is a great resolution to share with your brothers and sisters, or even the whole family. If you can all find things to do that don't include turning on the tube, it will be that much easier.
May: Ask a librarian
Here are favorite books of 10 famous people!


If librarians are hard to find, click on the link to favorite books of famous people in the callout box on your left and read one to a little kid.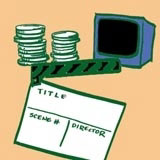 Tip: write the script before you shoot!


June: Make a movie
Come up with an idea for a movie. Write a script, cast the roles, and gather the props.
Then shoot it and invite over some friends, pop some corn, and watch your masterpiece!
Got any ideas for next year?
We'd love to hear from you. Please share your stories, pictures, videos from this year, and any ideas you have for next year.
5-Spot is always looking for new writers and artists for future stories! With your parent's permission, send us an e-mail by clicking here.

True or False: Lincoln was the first president born in a log cabin.
Click Abe's head for the answer.
FALSE: We are almost certain that Andrew Jackson was the first president to be born in a log cabin.