Take the Teenage Shopping Challenge - pg. 2
Haley and Candace
2:00 pm: Departure. Quick snack and chat at a coffee shop.
2:30 pm: First stop. The mall. We aren't even in a store yet when a purse at a booth on the concourse catches Candace's eye. She usually doesn't carry a purse, but there's something special about these fun, classy print bags. Is this the time to experiment?
2:45 pm: Speed-shopping the boutiques. Girl Group, then Vanity. "They don't have anything for tall people here," says Haley. Next boutique: Express: Nothing-- "I wouldn't buy anything here, it's too expensive," says Candace.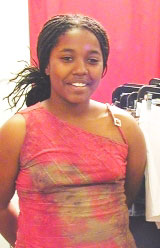 Candace spies a keeper
3:00 pm:
Wet Seal. Candace spies an unusual asymmetrical tie-dyed top: it's a keeper.
3:30 pm: Develop a strategy. Try on a few items, put a few "possibles" on hold, and go to next store.
3:45 pm: Gadzooks. This boutique is full of fun and flirty sportswear. There's a whole line of "playgirl" clothing with bunny-head logo and goofy phrases. The weirdest: "He loves me, I love his best friend."
Candace likes clothing with words: "I have a shirt at home that says 'Am I cute or what?' I like clothes that are kind of sassy." Haley says, "If it's provocative and could offend somebody, no. But if it's funny, sometimes yes."
As they shop, the two girls reveal the secrets of their personal style.
Is your T-Shirt saying I like that, or I'm like that?
Candace hates pink. Outgoing, her taste for zodiac jewelry and "boy stuff" mixed with more female fashion proclaims "I'm ME!" She picks tops in stark whites or deep bright colors that compliment her skin tones and draw attention to her face.
Haley likes a feminine look. She dresses up for school, even though she doesn't have to. She enjoys pulling outfits together with scarves, jewelry, or handbags.
As we work through the boutiques, Haley doesn't show much interest in the clothes. She reveals that she's pre-shopped at Urban Outfitters, where we plan to go after we finish the mall. She plans to spend most of her Challenge money there. "It's a little expensive, but there's no child labor [involved in the manufacture] and I like their stuff."
4:00 pm: Boston Store. Nothing interests the girls much. So it's back to pick up a few of the "maybe" items we've left along the way, before heading downtown.
4:15 pm: Back at Wet Seal. Haley had put aside a flowered slip dress whose $49.50 price tag made her hesitate. Now she's ready to buy--it counts as a whole outfit, after all.
As we're leaving the store, Candace sees some of her friends. She shows them her new halter-top, a white sweater-knit with a pink stripe. "Tell me you're not going to wear that without a shirt over it," one friend says.
We pass the booth with the purse Candace liked. She's carefully considering a purchase… but wait!
4:30 pm: Nearing JC Penney. Shall we duck in before we head downtown? Yes--and in moments Candace mixes and matches tops in rapid fire. She holds them up to a nearby mirror, not even taking time for the changing room. She buys another white halter-top and a pair of jeans.
4:40 pm: Outta here. Candace buys the purse at the booth and we're gone. We have good luck with the rush-hour traffic, and soon we're downtown, in the heart of the campus. This is where the college kids shop--and hip high schoolers too.
5:00 pm: We're hungry. Grab some burritos and tacos, before we head to Haley's big destination, Urban Outfitters.
5:30 pm: Back to "work." From her pre-shopping Haley has her eye on a purple top. She looks at it again but holds off. "I may come back for it with my own money,' she admits. She finds a turquoise tank top she likes, and a pair of embroidered net slippers in purple that will go great with her flowered dress. Then she finds a silver bracelet studded with blue glass "gems" that goes well with the turquoise top.
For Candace the clothes here hit the wrong note, and she only has about $25 left. That won't go far in this pricey place! She flirts with some attractive basketball sneakers on sale, but her size is out of stock. She settles on some socks and a few small accessories, and calls it quits.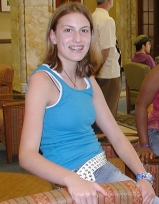 Haley finds THE belt
5:45 pm:
Still at Outfitters. Now Haley makes a big discovery—a wide white leather belt with silver grommet details all the way around. It's expensive but she decides, "I can wear it lots of different ways, at the waist or low around the hips. Plus it's kind of retro. It might go out of style but it will come back again."
6:00 pm: Exhausted! We head to the student union where the girls try on their clothes. It's fun taking pictures in the art gallery and the reading lounge. Over a final snack of ice cream the girls compare notes on their day.
Haley found just a few major items, just one pair of jeans, one top, and the flowered dress. She focused more of her purchasing power on accessories to complete the two outfits she bought.
Haley and Candace tell you how to get more for your dollar.
Candace will go home with a number of mix-n-match pieces that add up to a whole new wardrobe. Plus, her new purse will look great with everything she bought.
Mission accomplished. Check the Final score.

True or False: Andrew Jackson never weighed more than 145 pounds. Click Andrew's head for the answer.
TRUE: Jackson was 6 feet 1 inch and never weighed more than 145 pounds.
Tweet