Birthday Party for a King
It's not just books, books, books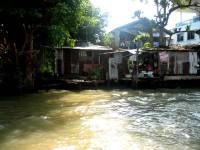 The Chao Phraya River is regarded as the bloodline of the Thai people.
Going to school does not mean classes all day long. Chaovachote gets to take a breather too.
This comes in two breaks, a 10-minute one and an hour-long lunch break.
Chaovachote loves short vacations but his favorite ones are the month-long school holidays in March and October.
During this time he and his friends head to outdoor markets where different kinds of clothing, toys, household items, handicraft, food and even pets are sold!
Thailand has the largest outdoor market in the world - the Chatuchak Weekend Market.
But for a more scenic weekend, youth head to the Chao Phraya River to hang out with their friends and sip on freshly squeezed tangerine juice for about 20 Baht, US$0.67 a bottle.
The end of a school day
School ends at about 3:30pm every day. But for students like Chaovachote—who live an hour's drive away—this can mean reaching home only at about 6 pm every day.
Roads are congested during rush hour in Thailand when traffic slows down to a crawl. What would normally take an hour might take two, Chaovachote explains.
Bangkok whizzes past him on his way back home.
Tourists wave from Tuk-Tuks which cost about 100 Baht for a 20 minute ride. Food store owners sell slices of Thai fishcake from roadside stores.
As he approaches the inner city he is greeted by low rises for poor immigrants.
Chaovachote is fortunate because he comes from a relatively wealthy family. His father is a doctor and so is his elder brother.
Said Chaovachote: "I am lucky because I get to go to one of the best schools in Thailand. Not many Thais are as lucky as me."

True or False: The first ever assassination attempt made against a United States President was intended for Andrew Jackson. Click Andrew's head for the answer.
TRUE: Richard Lawrence was mentally ill. He tried to shoot Jackson with two pistols from point-blank range. Both misfired. Jackson then beat Lawrence with his cane.
Tweet