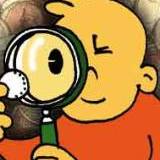 After you've asked for a new toy or game you probably heard your parents say, "I'm not made out of money!" or "What do you think money is made of?"
Do you know what money is actually made of?
The dollar bill is made of paper, right?
Wrong! It's kind of confusing because we often call it "paper money." But there is no paper, or even wood, used in any of our printed money.
It's a custom blend of 25% cotton and 75% linen. It's closer to your T-shirt than to paper.
This blend, which can't legally be used by anyone other than the Bureau of Engraving and Printing, lasts longer than ordinary paper. It allows us to use bills many times!
True or false: Coins are made fromsilver.


Pennies are only 2.5% copper.


False! U.S. coins are mostly made of a mixture of copper and nickel.
Some people think we don't need pennies anymore. But there are more pennies in circulation than any other kind of coin!
In fact, in 2009 the U.S. government unveiled a completely
new design
for the penny!
The penny, which many people believe to be made of copper, is actually copper-plated zinc.
Nickels are a 75% copper and 25% zinc blend. This same mixture of metals, called an "alloy," is used for the outer layer of quarters and dimes.
But look at the edges of these coins. There is a reddish-colored layer inside. This is a core made out of pure copper.
What about the Sacagawea doller? It's really gold...