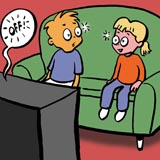 Is TV the main attraction in your life? Turn it off!


Wait—did you say off?
Yes, turning the television off may be a new idea to you, and you're not alone. But every year, millions of people are doing just that.
There are so many other ways to spend your time than just sitting on a couch for hours at a time. When you turn off the TV, you turn on your life!
Is TV Your Main Attraction?
Screen time facts:
There are 257 millions TV sets in U.S. homes.
Almost every house in the U.S. (97%) has at least one TV.
On average there are between two and three TVs in every home.
The average American home has the TV on seven hours a day.
The average American watches a little more than four-and-a-half hours of TV every day.
Don't smash your TV—your parents wouldn't like that! But think about your TV use.
Why would I want to turn my TV off?
You're probably wondering why you would ever think about turning your TV off. There are many reasons! Here are a few:
Think you'll miss something important if you turn off the TV? You probably won't. Read on...