Put Your Money to Work by Investing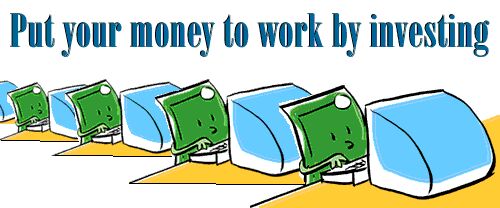 Money is a fairly simple thing. You get it...you save it...you spend it. Spending money is the easy part. It's tougher to earn and save it. Whether you have five or five hundred dollars, you can earn more money simply by putting your money to work for you.
The more money you have, the more options for places and ways to invest. You could put your money in savings or money market accounts, buy a U.S. savings bond, open a CD--certificate of deposit, not a compact disc--or invest in stocks, bonds, or mutual funds.
You can only
get poor quickly;
getting rich
takes time.



These are the ways most investors begin accumulating wealth. You'll need to decide where to invest, for how long, and how much risk you're willing to take.
How to get started
The one thing you'll need to be an investor is money. If you're serious about saving money, challenge your parents to participate. If you set an ambitious savings goal for three months and meet it, they agree to match it or contribute a certain sum. When setting the goal, consider your personal income to show your parents that you're serious about savings. It may be $50, if your income is based on an allowance, or $200, if you have a part-time job.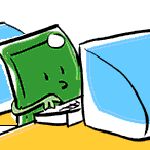 When asked what you want for birthday or holiday gifts, suggest a share of stock or U.S. savings bond. It's a sneaky way of asking for money, but it shows that you're serious about long-term saving and investments. Watching the performance of your stock will help you learn more about the ups and downs of investing in the stock market.
The Chart of Potential Investment Options will help you understand basic investment options. But before making investing decisions, consider the following questions:
Is your money protected by insurance? Your credit union savings, up to $100,000, are insured by the National Credit Union Administration's share insurance fund.



How long will your funds be tied up? If you need to withdraw your money, will you be required to pay a penalty?



Is this a low-, medium-, or high-risk investment? If high, are you prepared to lose some or all of your funds?



What will you earn on the investment and when is it paid? CDs and U.S. savings bonds, for example, pay interest when they mature.
Every investment option offers a benefit and a disadvantage. For example, a savings account is safe although it offers the smallest return. However, that's better than no return at all, which is what your money makes in your pocket. Other insured options provide better returns but require your funds to remain on deposit for a specified time. And if you're willing to assume risk, you could earn tremendous returns--or losses--in the stock market.
Creating your investment portfolio
As you branch out into additional investments, you'll be creating your investment portfolio , which includes all your investments, such as credit union savings, CDs, stocks, and bonds.
Is it wise to put all your money in one type of investment? No, except for savings accounts for beginning investors. As you accumulate funds, you can increase your return by putting some of your money in higher-return investments. For example, you could move some of your savings account funds to money market accounts or CDs when you meet minimum balance requirements and can set aside money for a specific period of time. You'll earn higher rates of interest, thereby increasing your return, yet keep your money safe.
As you earn more money, you may want to experiment with additional types of investments. Most savvy investors learn to balance risk with reward, which is how most people play the stock market. It's called "play" because you can win or lose big. Some people aren't comfortable with that and will never take the risks associated with stock market investments. And that's okay.



The best time
to start
investing was
10 years ago.
The second
best time
is today.
There isn't one investment strategy that works for everyone or a single rule that will help you get rich quick. Your investments should be based on your resources, needs, and knowledge. Determine your comfort level and develop an investment strategy to match it.
Investing is a major topic. To learn more about it, read this sidebar with additional resources for investing. And come back to Googolplex for future articles on more specific subjects.
It's never too soon to begin investing. Done wisely, it will put your money to work to help meet your financial goals. Start small, and learn from your mistakes as well as your successes. And have fun with it!

Answer: FALSE. Congress established a commission to recommend activities to celebrate Franklin's 300th birthday in 2006, calling him "one of the most extraordinary men of the generation that founded the United States."

True or False: Franklin always had mistrust for the English peoples and considered himself a true American pioneer. Click Ben's head for the answer.
FALSE. Franklin considered himself an Englishman until he signed the Declaration of Independence and helped write the Constitution. He thoroughly enjoyed the English theater and witty conversation that was lacking in young America.
Tweet