Shopping...Online vs. the Mall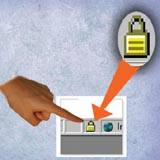 Look for the padlock or key at the bottom of your browser.

Is shopping online safe?
Yes, if you're a smart shopper.
There are justifiable fears that hackers could steal credit card numbers and personal information. But criminal risks exist for shoppers at local stores, too.
Web sites are secure because of something called encryption.
Basically, it's a mathematical process that scrambles information as it travels through cyberspace, and then puts it back in order when it reaches its destination.
Two ways to tell if a site is secure are:
Look for a padlock or key at the bottom of the browser screen.
Check the web address on the top of your browser to see if it reads "https://". Unsecured sites are designated "http://".
You can use the Better Business Bureau's web site to research a company before buying online.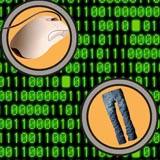 Secure web sites use encryption to scramble information as it travels through cyberspace.

Many people recommend sticking to sites that have good reputations, such as Amazon.com, eBay, etc., or other familiar companies.
Shop carefully, even in cyberspace. Read online information carefully to determine if minimum purchase requirements apply. A bargain price pales if you have to buy six!
When comparing the purchase price of an item, remember to add shipping, handling fees, and sales tax.
Avoid express shipping: it's much more expensive than basic ground service.
Online retailers usually e-mail confirmation and tracking numbers. Keep this information in case there's a problem or if you need to return the item.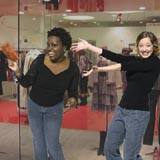 The holiday season is a very important time for online retailers.

So which is it—the real mall or e-mall?
That depends on you and what you buy. Most teenagers like hanging out with friends at the mall. Real mall shopping has pitfalls, too. You might:
Need a ride to get to the mall;
End up parking what seems like a mile away;
Encounter crowds, lengthy checkout lines, and rude sales people.
Some downsides to online shopping are that you:
See pictures rather than real items;
Have to wait for delivery;
Have to pay shipping costs to get and return any items.
However, you can do both. Wherever you shop, be smart and savvy to get the most for your money.

True or False: Andrew Jackson is responsible for the state of Florida becoming part of the United States. Click Andrew's head for the answer.
TRUE: Jackson invaded Florida, then owned by the Spanish, to capture Pensacola and St. Marks. Eventually the Spanish seceded and gave the US all of Florida.
Tweet