Mapping Your Future

Imagine that you pack up the car, eager to start a family vacation--but as you pull out of the driveway, you still aren't sure whether to go to the Disneyland, New York City, or the Grand Canyon. Without planning ahead, you won't know which way to turn when you get to the highway.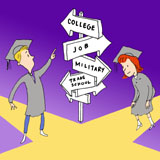 Road signs and maps help drivers figure out how to get where they want to go. They provide clues about direction, road conditions, and safety. Your career road signs will provide clues about who you are, what you like, and what you do best.
Do you want to go to college, join the military, learn a technical skill, or get a job? Life after high school is exciting and with that diploma in hand, your possibilities are endless. Here are some examples of the wide range of choices you have.
Armed forces
Chris played football in high school and hoped to go to college on a football scholarship, but after realizing his grades weren't good enough, he needed to find another plan. He started looking into the military. The work sounded fun and appealed to his competitive spirit, his love of teamwork, and his willingness to work hard.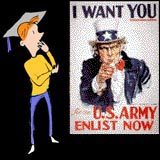 If some of your favorite pastimes include watching military flicks with your family, learning about strategic battles, or watching Civil War reinactments, the military (think Army, Navy, Air Force, Marines, Coast Guard) may be right for you.
Adventure-packed careers in the military can be good choices for people who shudder at the thought of a nine-to-five job. They also can provide great ways to make a difference and help others. And many employers like hiring former military personnel because they know about discipline, honor, and getting the job done.
You won't hear many people accusing people in the military of being wimps. It's hard work, and the only way to handle it is to stay strong and healthy. If you suffer from a serious case of homesickness at summer camp, the military is even tougher because people in the military must serve for several years and can be moved from one base to another--without seeing their families for months at a time. Also, people in the military work nights, weekends, and holidays, and combat duty is always a real and dangerous possibility.
Joining the military is not a decision to be made on a whim. Once you sign, you're in and there is no getting out until your time is up. Be sure to talk to people who have served in the armed forces to find out what the different branches of the military do and what you think you might like best.
Trade school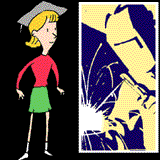 Growing up, Cynthia loved math. She thought she'd become an accountant when she finished college. Her grandfather worked as a welder, and after school Cynthia would go to the welding shop and help out by doing odd jobs. Cynthia loved working with her hands and creating things out of metal.
One thing led to another and after high school, Cynthia decided she wanted to go to a trade school to learn more about being a sheet metal worker.
Not all careers require a four-year degree. Trade schools, also known as technical, vocational, or career colleges, are two-year schools that offer training programs for different professions.
If you're not sure what careers interest you, talk to adults about what they do.
Do you like working with animals? Maybe becoming a veterinary technician is the way to go.
Do you like helping your dad take apart the engine on his old pickup truck? Maybe being a car mechanic is in your future.
If you want to test the "college" waters without paying big bucks for a four-year school, a career college may be right for you. Like Cynthia, you may learn to love a special trade, but need to improve your skills--an associate program can help you get there.
Entry-level job
Ever since she was five-years-old, Amy wanted to be a flight attendant. After graduating from high school, she interviewed at a major airline and was hired immediately. Amy had to go through a training program and then she was able to "take to the skies." When working 30,000 feet above the ground, Amy wants to be sure that the passengers she is responsible for are always comfortable and safe.
It's important to plan, pay attention, and prepare yourself.
Some careers, like Amy's, don't require a college education. With only a high school diploma and on-the-job training, people can get entry-level jobs in various fields. It's important to graduate from high school with skills that employers want. For Amy, her friendly, outgoing personality was something her employer really liked.
If you're not sure what careers interest you, talk to adults about what they do. Have them tell you what they enjoy most about their jobs--and what they enjoy least. Ask them what skills and education someone must have to do that job. Don't be shy. They'll be happy to answer your questions.
Co-op education
For several years, Billy was a "news junkie," watching news programs every night and reading the newspaper each morning before he headed to school. He knew current events and dreamed of being a news reporter.
Check out this example of a co-op program for high school students.
One afternoon, his guidance counselor told him about the new cooperative (co-op) education program the school offers. In fact, there was a position available at the local newspaper next semester. Co-op programs allow schools and businesses to work together to provide students the opportunity to practice their skills in the workplace, while still in high school.
In return for working a few hours a day, side-by-side with professional journalists, Billy earned school credit and a paycheck and got some "real world" experience. And better yet, he learned if this career was what he wanted to do for a living.
Co-op programs give students (usually high school seniors) a chance to spend part of the day in school and part of the day working at a real job. It's an old training method and a great way to learn the ropes. Not all high schools offer this program. To find out if your school district offers a co-op program, talk with the guidance counselor at the high school.
Four-year college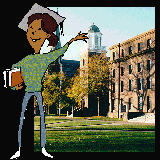 Monica grew up in a family of six children. Her father was a lawyer in her small hometown in Michigan. Monica always wanted to follow in her father's footsteps and become a lawyer too. She knew that life as an attorney isn't nearly as glamorous and exciting as movies or television make it appear. Monica knew it takes a lot of hard work, patience, and dedication. But she was ready for the challenge.
Being a lawyer is one of hundreds of occupations that require a college degree. Because Monica knew she needed to go to college to become a lawyer, she studied hard and read a lot of books on different subjects. She knew that the classes you take in high school and the grades you earn play a big part in determining whether or not a college will admit you.
Think you want to go to college? Click here for college planning tips for middle-schoolers.
That's why it's important to plan, pay attention, and prepare yourself. If sports are your thing, maybe you want to go to a Big Ten school. Or maybe you've grown up in a small, rural community and are ready for a college in the big city. Maybe you want to become a prima ballerina and will have to attend a specialized dance school.
Whatever you are looking for, it's never to soon to begin your college search and start thinking about the things you can do to improve your chances of getting accepted at the school of your choice.
It's easy to get lost when you don't have a good idea of where you want to go. Your teachers and school counselor can be wonderful resources in helping you uncover your skills, your strengths and weaknesses, and your interests.

By Maura Keller

True or False: Jackson ignored the ruling of the Supreme Court after it found the Indian Removal Act unconstitutional. Click Andrew's head for the answer.
TRUE: Andrew Jackson enforced the Indian Removal Act that eventually led to the removal of 46,000 Native Americans off their homeland despite the Supreme Court ruling that the act was unconstitutional.
Tweet