Work Without Selling Out
It's intense fun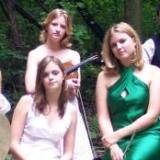 Click here for a larger image.

This is Jeff's first experience playing in a band, and he's having a great time. "My favorite thing is performing," he says. "I love being on stage."
He recalls the experience of recording the CD as being "intense." "We spent two days in the studio, then took a break, then two more days in the studio," he explains. "We recorded each part separately, so each person played their part a few times, then recorded it. The studio owner mixed the tracks together."
Life skills ice the cake
Career information for young musicians.

Peter plans a career as a musician. By playing with Rising Gael, he says, "I've learned how to set up for a gig, a lot about performing and recording, and how to go out and get business. I've also made contacts in the music business."
Jeff's also learned life-long skills playing with Rising Gael. "I've been the treasurer for the band, and I organize a lot of the practices. I've learned time management and a lot of organizational skills."
Jeff includes his band experience on college applications.
Friendships are gold
The future looks bright for Rising Gael. The band will cut another CD in a few months, and the band's members hope to stay together for a long time.
Jeff enjoys every aspect of playing with Rising Gael. "It's a blast just getting together to practice. I wouldn't do it if it wasn't."
Peter agrees. "The band members have grown to be my best friends. It's more than just playing an instrument."
Playing music isn't the only way to work without selling out. Emma has been making and selling her own jewelry for about two and a half years...
Emma makes gems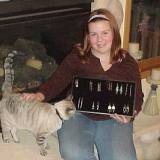 Click here to see a larger image

"I'll make anything—necklaces, rings, hairpieces, coil bracelets, multiple strand bracelets. If you ask for any piece of jewelry I'd probably make it," she says.
"I go to Texas with my Dad every year and I have a bunch of adult friends who taught me to make jewelry," Emma says. Her first piece was a pair of silver earrings with seed beads.
"Janice, the person who taught me, thought I should sell them," says Emma. "I wasn't sure, but people from school and church started asking me about the jewelry I wore and wanted to buy some."
Suddenly her hobby became profitable...
Tweet