Meeting New People
"Be assertive and introduce yourself to the people you sit next to in lecture, discussion, lab, etc." ~Sara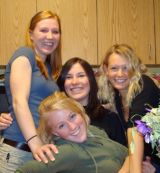 Brittany, left, has been very involved in college and has met a lot of new people.


"Take your roommate and go around the dorm and introduce yourselves to people. Having a companion makes the experience much less intimidating, and the experience is often quite rewarding." ~Brittany
"If you live in the dorms, knock on peoples' door and introduce yourself (I know it sounds lame, but it really works!)." ~Kelly
"Become friends with your neighbors and people on your floor. These are the people you are going to see all year long. Even if they seem like someone you wouldn't typically be friends with, give it a try. College is all about learning new things, right?" ~Meghan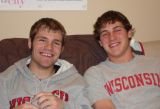 Craig and Austin both play for the golf team and have been able to meet new people there.


"The biggest mistake you can make with meeting new people is to expect them to come and find you. Chances are if you are waiting for them, they are waiting for you. Be the first." ~Kelsey
"Don't be shy. Thousands of other kids are in your shoes too!" ~Craig
"Whenever you are somewhere new (class, group, out) talk to new people." ~Kristine
Tweet