Start Your College Career Today!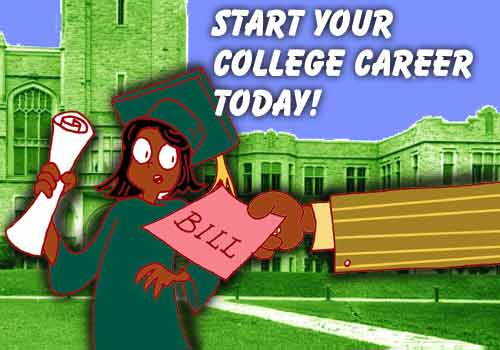 Whether you want to be a doctor, an actor, or a computer expert, chances are you'll go to college or technical school first. That can be a great experience—but it also can cost a lot of money!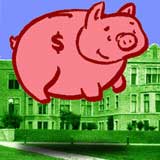 According to a recent study, today's college students can expect to spend $10,000 per year in expenses. By the time you're in college, it could cost as much as $18,000 a year.
The good news is that many schools offer financial help, including scholarships and loans.
The bad news is that scholarships rarely pay for all your college costs, and loans eventually must be paid back.
Think $18,000 sounds like a lot of money? It is! But if you start saving today, you can be ready for college when the time comes.
Why start now?
Here's the exciting part: Do you know that if you save money today, it can grow to be worth even more later?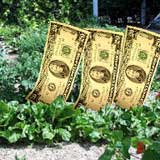 It's kind of like the way a gardener starts with a packet of seeds that, over time, become a tall, green garden of fresh fruits and vegetables.
Your money today is like the seeds; if you save it over time, you will have more than you started with.
Interest is one way that your money grows. This is the money your credit union pays you for letting it keep your money safe.
You can see how interest works by checking out the Googolplex investment calculators.
It's about knowing where you're going
Many experts suggest that you make a saving plan. To do this, sit down with your parents and talk through these questions:
How much money do I want to save? Have a long-term goal for how much money you think you'll need.

How many years do I have to save it? Remember, the more time you have, the more money you'll have at the end!

How will I save it? Think about whether you'll have a job or if you can save your allowance. Maybe your parents or grandparents set aside some college money for you, too.

Where will I save it? Your credit union representative can help you find a savings plan that will give you the most for your money, such as savings accounts, money market accounts, or mutual funds.

How will I know when I've reached my goal? Ask your parents to help you keep track of your progress. Don't be afraid to celebrate every milestone you achieve on the way to your goal!
You can even start now by checking out C-Note's College Savings Calculator.
Show me the money!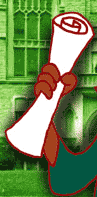 Now that you understand the importance of saving for college, you're probably wondering how to earn money to save.
Even if you aren't old enough for a job, there are still plenty of ways to get started saving. Click here for some ideas.
If you keep it up from now through high school, you could have most of your college expenses covered.

True or False: Andrew Jackson is responsible for the state of Florida becoming part of the United States. Click Andrew's head for the answer.
TRUE: Jackson invaded Florida, then owned by the Spanish, to capture Pensacola and St. Marks. Eventually the Spanish seceded and gave the US all of Florida.
Tweet