Question: What's been dead for years and still watches over the entire nation?
Clue #1: He's really tall and very friendly.
Clue #2: He wears a black coat, a top hat, and has a black beard.
Clue #3: The mailman never came to his Gettysburg Address.
Give up? It's Abe Lincoln's ghost!
What squeaks and creeps at night?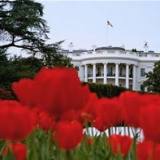 Why do we call it "The White House?"


He might have been kind-hearted when he took the presidency in 1860, but you still might not want him lurking through the halls of your house at night.
Those who have seen him say he means no trouble at all, but his presence in the White House is well known.
Lincoln might not be the only past resident to haunt the White House. It's been home to more than 40 presidents!
While there are no official records of ghosts in the White House, many believable people have reported their sightings.
Happy hauntings!
Good ole' Abe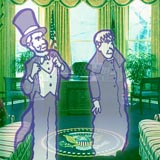 Early one morning, Queen Wilhelmina heard three knocks on her bedroom door. . .


Since his death in 1865, people say they've seen Lincoln:
Strolling the hallways of the president's quarters
Looking out the window of the oval office at what were once the battlefields of the Civil War
Viewers seem to spot him more often when the country is in trouble or at war. They say he's almost like a guardian.
Many famous people have seen Abe's ghost while staying at the White House, and some of them will not return!
Some presidents won't go away...