They're Selling COOL--Are You Buying?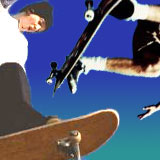 The skateboard manufacturer pays them to do it.
Forest and Jason, 13-year-old skateboard masters, share a part time job. They demonstrate skate tricks, talk about safety, and tell other kids about new skateboarding stuff.
The makers of a certain brand of skateboarding shoes and clothes pay them to do this. Why?
That company hopes to keep its products popular with kids like Forest and Jason.
From Pepsi's Mountain Dew to Vans' Tony Hawk merchandise, marketers are after the cool factor with a group they call "Generation Y"—the kids born between about 1980 and 2000.
You can change the world!
Selling to Generation Y is big business. This group represents about 60 million people. These kids spend anywhere from $160 billion to $258 billion annually, according to estimates.
That's a lot of spending power. For that reason the marketing industry is focusing more and more on how to reach this generation—you and your friends, your brothers and sisters.
What do YOU think?
New techniques for a new generation
Companies after Generation Y customers are turning their backs on traditional advertising techniques like TV commercials. Gen Y kids respond to ads differently.
Marketers now bring their messages to the places kids like you get together, like skateboard parks or the Internet.
To reach the youth market, companies buy ads on kid-friendly web sites, or sponsor activities kids enjoy, like concerts and sports events.

Marketers hope you'll associate your good feelings about their web site, with their name brands.
Marketers hope that when you like the web sites or events, you will associate that good feeling with their names and logos.
That's the idea behind branding—it creates positive feelings about certain companies or labels.
But research surveys show that as members of Gen Y, you are a bunch of tough customers:
You're harder to persuade with advertising and less loyal to brand names than any previous generation;
You're more likely to rely on your friends' opinions than on advertising when you make a buying decision;
You believe in giving, donating your time and resources to important social causes, and you're quick to support companies that help the same causes you do.
That's why marketers are coming up with new ways to advertise without seeming to.
What's a target to do?
What does it mean to be part of Generation Y?
Knowing that marketers have targeted you might make you feel like an animal in the cross hairs of a hunter's scope.
Especially when you see articles telling marketers how to hunt you down, like the ones you'll find at Internetnews.com and Microsoft Advertising.
But you're not helpless. You can use marketers' interest in you to your advantage.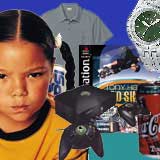 Get smart about advertising.
Sharpen up your ad smarts. Become media literate—learn about advertising and how it works.
See through the hype. You don't have to be an easy target. When you find yourself thinking a lot about buying a specific item, like a jacket or a new music CD, take a minute to ask "why?"
Vote with your dollars. Spend your money on the products and companies that give you the most value. Switch brands if doing so means your dollars will support a good cause.
Simply buying a locally made product instead of a national brand makes a difference. Your purchase helps create jobs and other benefits in your own hometown.
Selling to the Generation Y market is hot, and there's a good reason why. It's because you have power—spending power.

True or False: Andrew Jackson was deathly afraid traveling and never rode on a train. Click Andrew's head for the answer.
FALSE: Jackson was the first president to ride on a train!
Tweet