Where Will Musical Talent Take You?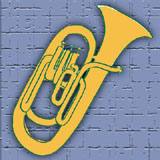 The baritone is like a miniature tuba.
Eighth Grade. Today as I enter eight grade, I see big improvements in my skills.
My band teacher has invited me to play the baritone at school because there weren't enough people signed up to play it.
The baritone is like a miniature tuba. It has a deeper sound than the trumpet but still has three valves.
Now I can play the trumpet, the baritone...and the recorder!
Practice fuels the journey
I haven't always enjoyed practicing because playing with friends is more fun.
Practicing, however, is the fuel for all of my improvements so I do my best to squeeze in practice time.


The life of a professional musician.
Practicing even helped me with a competition in my literature class!
We had a talent show called Frog Idol (like American Idol) where students shared their talents and the winners moved on to the final round. I practiced hard for the whole week before the competition.
My hard practice paid off because I was selected as one of the finalists. Even though I didn't win the competition, I was happy that I played my trumpet well enough to be a finalist.
The journey never ends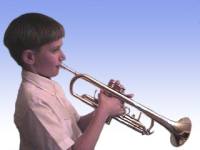 I enjoy playing music whether I earn money or not.
Maybe one day I will be a great trumpet player and others will pay money to listen to and enjoy my songs.
Maybe I will be invited to play the national anthem at a baseball game.
Maybe I will play in the band at college.
I'm not sure what my future has in store or where my trumpet will take me.
Whether I earn money from it or not, I enjoy playing the trumpet and, by learning to read music, I have actually learned another language.
How cool is that?

True or False: Andrew Jackson believed the Earth was flat. Click Andrew's head for the answer.
TRUE: Even though Ferdinand Magellan established the earth is round as early as the 1500's, Jackson still believed the Earth was flat.
Tweet