Keep the cash
Here are some ways to help your mom feel really special on her day, and keep your cash in your wallet:
Make a gift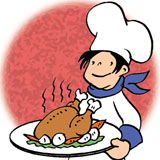 Remember Dad on his day.


Flowerpot: Buy a flowerpot and let your creativity loose. Paint your mother's name on the pot and decorate it in spring colors. Then add a plant!
Photo album: Get a piece of cardboard from a box around the house. Glue a piece of pretty paper on top of the cardboard.
Find some special pictures of you and your mom. Arrange them together in a way that is pleasing to look at. Then glue them down and decorate your album.
Grandmothers too!
If you are lucky, you know your grandmothers.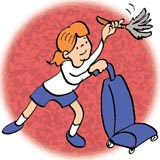 More gift ideas!


Let them know how much you appreciate them!
You can surprise your grandmothers on Mother's Day. For each one:
Make a card.
Set aside some time to spend with her.
Find out her favorite activity, and join her.
Home-made gifts and your time are perfect ways to say thanks to the wonderful mothers in our lives!

True or False: After moving from their farm in southern Indiana in 1830, the Lincoln family first settled in Springfield, Illinois.
Click Abe's head for the answer.
FALSE: The Lincoln Trail Homestead State Park, 10 miles west of Decatur, Illinois, marks the spot where the Lincoln family first settled after moving from their farm in southern Indiana.