Take Action: The Freshman 15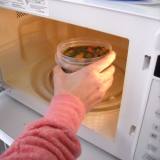 Warming up something homemade (like soup) is healthy and comforting.


Avoid sugary cereal.
Instead, have a breakfast with protein so you won't get hungry and overeat later.
Avoid fast food.
Not only is it unhealthy, but the cost adds up as well. For healthier foods that won't burn a hole in your pocket, stick to your meal plan.
Make up for your vice.
Still gotta have that slice of taco and meat-lovers pizza? Supplement it with a salad instead of French fries. You'll feel way better, and less hungry, later.
Drink a lot of water.
Keep a water bottle handy wherever you go. Someone who weighs 160 pounds should be drinking at least 80 ounces of water a day. Add eight more ounces of water for every 20 minutes you exercise.
So where do you think you'll get the energy to do all of this? Read on...


Once you learn how to eat right at school, you'll feel a lot better—inside and out.


Motivation
It certainly won't come easily, but here are a few tips that will make you want to stay healthy and active!
Make a vision board.
This will give you motivation every time you look at it. Hang up a corkboard filled with pictures of your friends, family, even your pets—whoever you know is supporting you. Next, hang up pictures of your favorite athletes. Looking at them will give you the energy to push yourself.
Make small goals for yourself.
For example, eating lunch in the cafeteria for a week instead of going out. If you set large goals for yourself, they'll be harder to achieve and therefore can be a bit discouraging. When you achieve small goals, you'll feel more sure of yourself.
Let others know what you're doing.
Explain that you're making a conscious effort to be fit and healthy. They can remind you to get to the gym, help you make better decisions in the cafeteria, and maybe even join you in your commitment to a better quality of life.
College life is stressful, no doubt about it. Taking proper care of yourself will pay off, because you'll stay healthy. Maintaining a healthy lifestyle in college doesn't have to be hard or expensive. With the right state of mind, anything is possible!

True or False: Actor Nicholas Cage plays a descendant of Benjamin Franklin in the "National Treasure" movies. Click Ben's head for the answer.
FALSE: Cage's character, Benjamin Franklin Gates, is named after the Founding Father.
Tweet