Take Action: The Freshman 15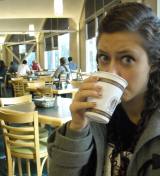 Ask your friends to support you to make good choices, and do the same for them.


When you picture your freshman year of college, what comes to mind? New friends? Hard classes? What about… weight gain?
Unfortunately, gaining weight is something that many college freshmen experience. It's known as the "Freshman 15."
So What Exactly is the Freshman 15?
It's a term for the weight a college student will typically gain in the first year of college. Some say it's a myth, others say it's actually real.
As it turns out, there is typically some weight gain that happens during freshman year, but maybe not a whole 15 pounds. According to a study done by Cornell University, the typical weight gain is 4.2 pounds.
As a freshman in college myself, I face the difficulty of balancing a healthy lifestyle with the stress of classes.
Tips and techniques
To begin, let's talk about some tips and techniques that will help you in the beginning of your freshman year. Establishing a routine/schedule is important—it is a great way to stay on track.
Exercise regularly.
Set aside time three to four days a week to work out. You can bump it up to five or even six days a week if you want—just make sure you leave yourself a day of rest!
It's easier to work out when you maintain schedule. Three times a week is a good minimum.
Take advantage of the workout facilities. Most colleges will have a gym open to students and athletes alike. Taking advantage of the facilities at your school is a great way to get some exercise and save money, because it's normally free to students.
Read on for more tips...
Tweet