Senior Year
Three years down and one to go…who is more excited than a high school senior! Even though you'll find plenty of self-help books on how to survive your college years, there isn't much written for the high school senior.
Sure, your senior year may sound easy, but it is important to recognize that there are things you will have to do to prepare for it.
Starting now

Now is the time to get organized, if you aren't already. Don't think that you will just get through senior year, go to college, and magically be organized and neat.
If you've gotten this far in school without learning how to listen well and take good notes, it's time to get off that slow train to nowhere. You will need to have these skills mastered when you start college.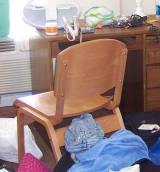 New skills don't end in the classroom!


Become as computer literate as you possibly can. Familiarize yourself with writing research papers and using computer programs such as Microsoft Word. Make your own blog or Web site to refine your skills.
College textbooks and overall class work are more difficult than in high school, so don't shortchange yourself by taking a lot of easy classes your senior year.
You will need certain college preparatory classes just to get into college. Be sure you know what they are, and take them.
It's easy and seems reasonable to want to relax your last year, but colleges are looking at your grades, especially ones from your senior year. In fact, if you take some AP (advanced placement) courses, you may actually earn some college credit in high school.
Interested in a half day of school?


Some high schools require
senior projects
and you don't want to wait until the last semester to get started. You may also be required to
shadow
someone in the profession you are considering.
Hang In there!

Everyone gets senioritis.


Everyone gets senioritis. It's practically a rite of passage—just don't get it
too early
! Yes, it's fun to think about prom and get caught up in graduation or planning a senior trip, but if you start losing focus too early you're really going to cheat yourself.
Even though senior year might feel like a party, you really shouldn't treat it like one. Sure, there are times when you'll feel like going out with your friends. Who doesn't live for the weekend?
But when you do go out, always keep in the back of your mind that choices have consequences.
You've already started preparations for your ACT and SAT Reasoning Test. In fact, you may have already taken one or both...
Tweet