Work Smart: Invest
Bond, James Bond

How does dollar cost averaging work?

A bond is basically a loan that you make to a corporation or the government that pays you interest over a set period of time.
Bonds are normally low-risk investments because they are not as volatile as stocks and are, many times, backed by governments or municipalities.
Each bond takes a different amount of time to mature and pays different interest rates to lenders. If you cash in a bond before it matures you will face a penalty.
Take stock in this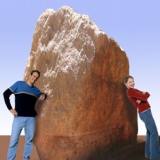 When you invest in the stock market, you can earn money in two ways.


When you buy a stock you are paying for a share of a corporation or business—you have ownership in that company. This means that you can make money off of the company's good fortune or lose money from its poor business practices or a challenging financial environment.
Stocks make up the stock market, obviously. And there are thousands and thousands of stocks to pick from, and each one vies for your money.
Corporations sell stocks to raise money for their business operations or to pay down their debt.
You can earn money in two ways, assuming the company does well. First, you can earn dividends if the company pays them. Second, you can sell your shares at a price higher than you paid for them.
The feeling's mutual
Mutual funds are a popular investment for beginning investors who don't have much money to invest. They are a compilation of stocks, bonds, and cash markets that are professionally managed and highly diversified—both very good benefits.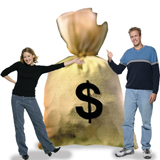 How much do you know about investing? Take the Money Smarts quiz.


Each mutual fund—and there are thousands—has a different goal, risk, and return. These funds have automatic investment options.
Dollar-cost averaging is one example of an investment option. This is a strategy that helps to reduce market volatility by investing a set dollar amount at regular intervals.
For example, you could deposit $50 a month into a fund. When the shares are at a high cost you buy less, when at a low cost you buy more, thus helping to balance the highs and lows of the market.
The hard part
Check out "The Ultimate Financial Terms Glossary."


So far you haven't had to work too hard. But don't worry, things will definitely pick up. And though the saying says to work smart, not hard, being smart
still
involves work.
Remember the rock analogy—to reduce your work you need to exert some energy at the beginning to get the stone rolling. This translates into investing too.
Getting started is the most difficult part, but once you're rolling you can kick back, relax, and watch your money grow on its own.
Pretty smart, huh?

True or False: Benjamin Franklin once considered opening a swimming school. Click Ben's head for the answer.
TRUE: Ben loved swimming so much, he once swam in the Thames River in England and performed every feat under and above water as he swam from Chelsea to Blackfriars.
Tweet