Driving Before Age 16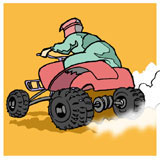 Check out the California Farm Bureau Federation's safety tips for ATVs.
All around the country kids are driving, and many of them aren't old enough to drive a car.
For these kids, driving means ATVs, boats, and snowmobiles. Since they are often driven on private land instead of public areas, there are fewer rules about who may drive them and when.
But that doesn't mean anything goes. Reckless use of off-road vehicles can be dangerous and result in a loss of driving privileges. It's up to you.
They go where others can't
The ability to go where cars cannot makes off-road vehicles popular with scientists and other outdoor workers. And because they can go where there are no roads or towns, they're especially useful for emergencies.
But being able to operate in remote areas means drivers need to be responsible on their own.
Off-road vehicles make it easy to trespass and damage the environment. Bad off-road drivers can harm themselves and others. If they destroy property or harass other people, they could cause a backlash that leads to restrictions for everyone.
Here's how to enjoy driving under age 16, safely and considerately.
ATVs
The manufacturer is good source of safety information for all these vehicles.
All-terrain Vehicles (ATVs) typically have four large wheels, a steering bar like a motorcycle and no sides or roof. They also tend to have powerful engines.
"I've been driving an ATV for a couple of years," said 15-year-old Matt from Duluth, Minnesota." Our family built a new house in a wooded area outside of town, and because of the trees, the ATV was the only way to get around."
The National 4-H Council offers a program on ATV safety for youth.
"Now that the house is built," said Matt," I mostly ride the ATV just for fun."
ATVs cost about one-fourth the cost of a car, usually between $4,000 and $6,000.
Whether for fun or work, ATV safety rules include:
Wear a helmet;
Don't allow others to drive;
Make sure you know where you are and how to get back.
From rod-and-reel fishing to water skiing, boats are among the most...

True or False: Andrew Jackson was against slavery and actively campaigned to abolish it. Click Andrew's head for the answer.
FALSE: Jackson was not against slavery and in fact owned slaves at his mansion, the Hermitage.
Tweet