Earth Day: Make a Difference
Learn before investing
Here's a window to great resources for homework help on Earth Day topics.
Read up on your organization. Make sure you agree with its actions and understand its cause. Many websites have a section about the company's goals and purpose.
Some places will sound good, but not do exactly what you thought.
To avoid these companies, research where your money goes and what the company does in return. Research the donation percentage of donations that goes to the actual operation of the organization.
Now that you feel like you trust your organization, the question is where do you get the money and how much is enough?
Ready, set, invest!
Ask your parents for help!
You can earn money in many ways: Mow lawns, baby sit, sell lemonade, start your own business, or simply ask for donations.
No matter which approach you take, make sure you clearly state your cause.
Earth Day started with one person's idea and efforts. Who was that person?
Secretary Nelson Gaydela
President Nelson Mandela
Senator Gaylord Nelson
More people will help you or employ you if they know why you are raising money and where their money is going.
The bonus for potential donors: Your cause will probably attract a lot more customers.
It adds up
Earth Day is not a time to be greedy, but don't promise amounts of money that you can't obtain. Organizations will appreciate whatever you give.
Many organizations will accept the small amount of just $5. Don't worry about how to send your donation. Almost all Web sites will have "contact us" or "how to donate" pages.
Surprise bonus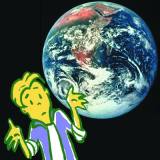 What will you do to help keep this world spinning?
You've already received so much from the earth, so Earth Day is your chance to give back.
You're helping something big that affects everyone. And when you give, you feel GOOD!
Stay connected with the group! The organization might send out packets and thank-you letters. I get newsletters from one.
Once I got a poster and other free stuff! It's fun to receive these things, because it makes you feel like you're a person, not just a wallet.
365 holidays a year
Make every day Earth Day! Unlike other holidays, you can celebrate this one year-round.
Make your Earth Day a day to remember, and do what you can to make a change.

True or False: Jackson was considered very supportive of American Indian rights. Click Andrew's head for the answer.
FALSE: Jackson's Indian Removal Act forcefully relocated ten of thousands of American Indians, resulting in large amounts of suffering and death.
Tweet