Retail and rental sales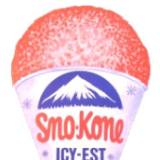 Advertising was a major part of my business.


You guessed it; I separated my business into retail and rental sales. I still keep that separation.
Retail sales. When I do retail sales, I travel in our neighborhood with snow-ice I've made with my machine earlier in the day. I pack it in a cooler, and put the cooler in a trailer hooked to my bike.
I bring along the flavors, and about 50 packages of
cotton candy
that I've made up in advance.
At first I tried ringing a bell to announce my arrival in the neighborhood, but I didn't like it. It sounded dorky.
Now I just call out, "Snow cones!" and people come!
I don't go to school playgrounds because there are too many busy streets to cross to get to them. But it doesn't matter—I go where the people are in my neighborhood, and have more potential customers with money that way.
I have two sales people that I call "
sales consultants
." They are kids who read about my success in the papers or heard it on the news, and asked if they could do it too.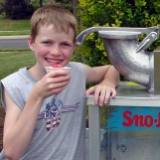 I love fruit-flavored shaved ice on a hot day.


Rentals. I rent my machines to people for any occasion. I like to rent out my machines much more than I like doing retail sales.
How I Added Sales Staff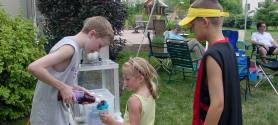 When sales consultants bring in rentals, such as end-of-the year school parties, I pay them 15% of what they bring into my account. I pay commission instead of salaries so that I'm only paying sales consultants for the work they actually do and complete.
I give my sales staff 10 free business cards to leave with potential customers. The cards help get their customers' attention.
After they have used up the 10 free cards, they can purchase additional cards for 10 cents each. If they bring in rentals, I give them ten more business cards for free.
Birthday parties
Family reunions
Graduation parties
...and just about anything a person can imagine!
Living my dream
Today, whenever I come across a business that I think would be interested in renting my machines or selling my products I call or visit them. I really like that.
Sometimes my dad goes with me. Making the trips and phone calls boosts my business.
Ryan's Sno-Kones is a success. This business is exactly what I wanted!


True or False: Abraham Lincoln, when elected President, selected his closest political friends to be on his cabinet of advisors.
Click Abe's head for the answer.
FALSE: Lincoln actually appointed his major Republican rivals to his cabinet.