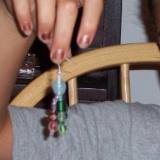 Make your own earrings!


Anything that looks pretty
"The fun thing about jewelry is that you can make it out of anything you like the look of," says Sandy.
One day she found some copper wire in the basement that was being built. She says, "I had to have it! Everyone else thought it was garbage, but I knew it would be a perfect material to make jewelry out of!"
Today, Sandy is into making things out of copper wire, because she says, "I've got an unlimited supply from my dad." She has a tool that twirls the wire, and makes it look very nice.
Sandy likes to wrap the wire around sea glass, using a technique called wire wrapping.
Make a wire coil chain or a bead and wire chain.


I bought some cool beads at a store named Artful Beads, owned by a lady named Susan. Susan told me how to use a headpin, a piece of wire with a stopper at the end, when making earrings.
You string your beads on the headpin, and the stopper stops the beads from falling off the wire.
Get started!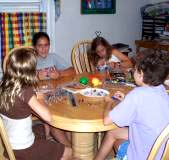 (left to right) Sarah, Molly, Devon, and Casey work on jewelry together.


If you enjoyed hearing about jewelry, and want to make some yourself, use the websites I've provided in this story, or search the Web for commercial sites.
You can also learn about jewelry from books. Two books I liked about jewelry making were "Handmade Jewelry," by Carol Grape and "Friendship Bracelets," by Laura Torres.
Jewelry making is fun and easy. It is a great way to express yourself, and almost anyone can do it!

True or False: Lincoln spared the life of a turkey about to be killed for Christmas dinner. Answer below.
Click Abe's head for the answer.
TRUE: Lincoln's son Tad begged his father to spare the turkey. Lincoln let the turkey become a White House pet.