Smart Art or Insane Stain?
Employers differ

A spear in your ear doesn't make you a criminal.


Tattoos make a statement. Although it may seem unfair, you may be judged on having one alone.
In the local Fairmont Wal-Mart there is a cashier who has 10 piercings in one ear. Obviously, not all businesses are opposed to hiring people who choose to represent their individuality in that manner.
Just because a person has a tattoo does not make him a criminal or a rebel.
Jared, a sophomore in high school, has a sparrow tattoo. Some tattoos, like the one Jared got,Jared's Swallow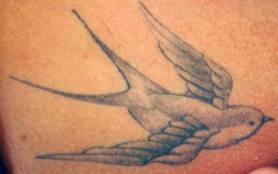 Jared's swallow has special meaning to him. He won't remove it.

Close

have special meaning.

"I wanted to get a tattoo for my brother, who died at a very young age. Swallows represent life to me and I wanted to get that for his memory," says Jared.

Ms. Pulice won't even consider it.



Won't Consider it

Most professionals won't even consider a person with a tattoo.

Ms. Pulice, director of communications and publications for the Allegheny County Bar Association, in the Pittsburgh area, says, "Because we're an organization representing the interests of over 6,500 attorneys, hiring someone with the right professional skills and appearance is critically important to us."

She adds, "As a general rule, someone who arrives to an interview with exposed tattoos, and excessive body piercings gives a first impression that is not professional and that is hard to overcome.

Close

While you consider what effect tattoos will have on your job outlook, you also have to consider what impact it will have on your wallet...
Pay now, pay later
Tattoo prices range depending on the size, location on your body, and the artist's rates. According to a local artist, one the size of your fist can be around $75.

Although that kind of money could get you that thorny rose you've had your eye on, what happens when you decide it was a mistake to put your girlfriend's name across your wrist? That comes with a high price tag as well.

Even though creams sold on the Internet make claims to fade an unwanted tattoo (though probably not very well), laser surgery is the most reliable option for removal.The Price to Make it Right

The cost of removing a tattoo can be between $200 and $800 a session, depending on the size and color of your tattoo. Not cheap and not fun! And after all that, it still doesn't guarantee that your skin will be back to normal. It is inevitable that you will have a scar.

That's a big price to pay. Just because mom and dad have you on their health insurance policy doesn't mean that will cover your bill. In fact, most insurance companies will not cover the cost of tattoo removal. You'll have to flip a lot of burgers to cover that charge.

Close

It is painful, like having hot grease spilled on your arm, and you most likely will have to have multiple sessions.
Piercings: a step down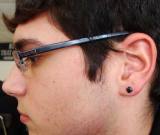 Devon goes for just one piercing, no tattoos.


A lot of teenagers get piercings. This is a way of expressing yourself that is not as permanent as a tattoo.
Burgundy, a senior, has 12 piercings. "My first piercing was my nose," she says. "After that I got four in each ear, my belly button, lip, and tongue."
Asked why she got them, she says, "I just like piercings." And why she got more? "Once I got one, I had to get more. Getting them is addicting."
Piercings are a way to mark who you are. Even with a piercing, you can just take them out if you don't want them. Right? Not necessarily.
"The only piercing I think I'll regret is getting my tongue pierced," Burgundy says. "A lot of people's tongue piercings push out and leave slits in their tongues. Mine will probably do that." But why would you get one that could possibly cause damage like that?
Burgundy has a lot to say about piercings, bad, as well as good.
"All of my piercings have gotten infected." she admits. "My nose piercing just got done being infected and I've had it for five years. Now my lip ring is infected."
Seems like a lot to go through to be different without actually being different.
High school boys are also becoming interested in piercings. Devin, high school freshman, has his ears pierced. "I really like my earrings," he says. "My cousin says that it's cool to get ears pierced, so that's why I did it."
Does your piercing or tattoo make a statement or are you giving in to peer pressure? That's the big question...
Tweet