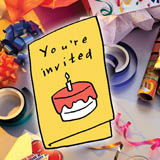 If you don't say "party," is it still a party?


Have you ever been to a party that was so cool you didn't want to leave?
Here are a few ideas to help you turn your next party into an event your friends will never forget!
Have a theme
Each holiday comes around once a year and has
a theme
that often becomes a tradition among family and friends.
This time, start a new tradition: Give your party a theme, and make it whatever you want it to be!
Dress-up/costume party
Why is Halloween so fun? It's not just the candy. It's the costumes!
Where else can you meet Frankenstein's Monster, a ballerina, and a circus clown...at the same time?
Costumes let us use our imagination. You don't need Halloween to have a costume party. Your guests will have fun before the party even begins!
Pirate party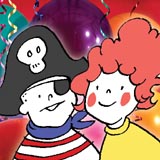 Calling all scallywags: Make your own sundaes!


Why not have a pirate party like Marty Jr? Last spring, he got an invitation for a pirate party.
This birthday bash was extra fun because it had a theme. The invitation asked Marty to dress like a pirate.
Marty's mom took him to a second-hand store and helped him put together a colorful pirate costume.
When all was said and done, he was ready to set sail with the rest of the seadogs and scallywags.
The bowling alley and the movie theater are fun, but...