Investing Can Get You Free Money!
Saving
Why is college and saving for college important?
My parents helped me understand by showing me how to save for small things first.
It's hard to save for expensive items when you're that small, so I saved for items like video games.
Every time I had money to save, I would think to myself that I was saving it for my reward, which was the video game.
As I got older, I started saving for college and realized the video games weren't as important.
By investing, you can get free money.
One of the most important terms is compound interest. It's the reason why everyone says, "You should begin saving at a young age!"
Find a savings plan or mutual fund to invest your money in, because you will get free money. Yes, that's right, I said free money.
It means that when you invest, you will earn interest on the money you start with—the principal—and you will earn interest on interest.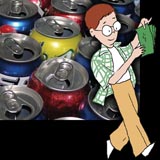 My mom helps me run a "can crusade" at my school.
Earning money
Where do you get money to invest in the first place?
My parents are both hard workers and they try to teach me the value of a dollar.
I have jobs throughout the year that help me earn toward my future.
I live in a rural area and there aren't many kids around, so I am able to help out my neighbors and make money:
I shovel snow in the winter.
In the spring, summer, and fall I mow lawns and rake yards.
Year round I help babysit.
By working for money, I appreciate things more. I like helping my neighbors and family with odd jobs because I know that it will pay off in the future.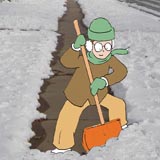 I appreciate the things that I've worked for.
If you aren't interested in working to save toward your future, start saving soda cans and other aluminum products. This is also good for the environment because you are recycling.
Some of my friends think that my parents are hard on me because they make me work and don't just hand me money. However, I am thankful that my parents care enough about my future to teach me at an early age what smart investing can do for me.
You might not think that learning about money is interesting. But once you see a piece of paper with an amount of money that belongs to you, and not your parents, you'll see that it's exciting to work, earn, save, and invest!

True or False: Andrew Jackson's home, The Hermitage, is a part of the Trail of Tears National Historic Trail. Click Andrew's head for the answer.
TRUE: Jackson was the president who signed the horrific Indian Removal Act into law. The National Park Service displays Jackson's home as a site on the trail where many Cherokee died from being displaced.
Tweet