Based on your answers, you are best suited for a career as a ...
Rodeo Clown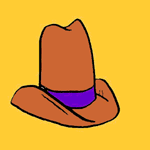 Now here's something you don't get to do every day – taunt large animals for money. That's exactly what Rodeo Clowns do! These performers are employed to entertain the crowd between rodeo acts, by telling jokes and taunting angry bulls.

Naturally this is a very dangerous job, and one with its fair share of risks. It also has its rewards, as a freelance rodeo clown can earn as much as $90,000 a year.

You have been suggested this career option because you provided at least two of the following answers in your survey:

Your best quality = Athleticism
It's not easy running from an angry bull when you're in bad shape.

A prerequisite you are most willing to gain and/or maintain = Bull riding experience
Most rodeo clowns are former riders themselves. That makes sense – no one knows angry bulls better than angry bull riders.

You considered this to be the best job perk = Traveling; Seeing America
Freelance clowns will jump from show to show all around the country. Frequently they will pay their own travel expenses, however.

This statement from someone already in the field was most appealing to you = "As a funny person, you have more potential to make money."
Many clowns will tell you that being funny is the hardest part of their job. How many jokes can you think of while being chased by a bull?

You most see yourself doing this = Working with animals
They just happen to be very large, very angry animals.

Which risk you see yourself taking = Badly broken bones
Injuries in the rodeo clown business are usually not slight. If you get hurt, expect it to be nasty.