Backpacking: Get Started!
How to pack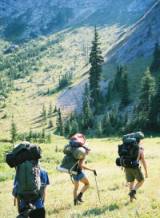 Keep the weight down—make a checklist.
Before you start packing, ask questions of your trip leaders to find out about the type of trip you are getting into.
Start with the geography, climate, and expected weather of your destination.
The beauty of backpacking is that you carry everything you need for the trip.
This makes it important for you to minimize the weight of your pack by only bringing the things that you need.
When you understand the area you'll be traveling in, you won't make the mistake of packing unnecessary items. An inexperienced companion brought hairspray, and spent the whole trip regretting its weight.
The big stuff
If you are backpacking for the first time, rent or borrow the more expensive equipment. This will:
Save you money;
Narrow down your preferences;
Make sure that you enjoy this kind of activity!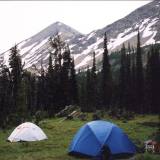 Check out equipment reviews.
If you already know that you love backpacking, you already have some ideas of what you want. When you buy your equipment, customize and fit everything to your individual body type.
Sporting goods stores carry a selection of gear for camping and backpacking. First search the Internet for the models and brands you want. You may be surprised to find it's cheapest just around the corner.
You might save a ton of money by shopping online for new and/or used gear.
No matter how you find it, gear is expensive, and doesn't always meet your personal requirements. One alternative is to make your own gear.
Read on to learn about packing the right food...

True or False: Jackson was considered very supportive of American Indian rights. Click Andrew's head for the answer.
FALSE: Jackson's Indian Removal Act forcefully relocated ten of thousands of American Indians, resulting in large amounts of suffering and death.
Tweet